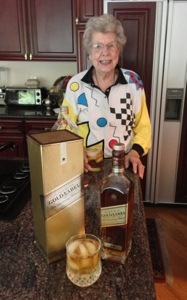 It's time for another trip with Grandma! I arrived last night in time for steak dinner with baked potatoes, peas & salad, and since Grandma had already enjoyed all the Johnny Walker Blue Label I got her for Christmas, she decided to open a bottle of Gold for us to share. We were still talking at 11pm when we decided we should get to bed!
Grandma slept in much longer than I did, which was fine for me to have a leisurely morning the first real day of my vacation. Of course it rained overnight and was still raining off and on, the first rain they have had here in 60 days, a rare dry summer for Seattle! Glad it waited until I arrived…hrmph! We finally decided since it was only spitting off and on, we should still take the Kingston Ferry then drive down to Bainbridge Island where I'd never been before. Since there are too many stairs, Grandma stayed in the van while I enjoyed the wind in my hair up on deck, including some iPhone panorama fun. 😉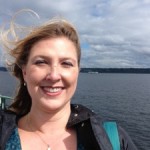 We were lucky that the rain stayed away for our ferry crossing, so I stayed out on the deck the whole time. It was so windy it was hard to keep my eyes open for a photo, especially when the sun finally came out, but the funny curlicues in my hair in this photo really cracked me up! I even caught the return ferry in the background.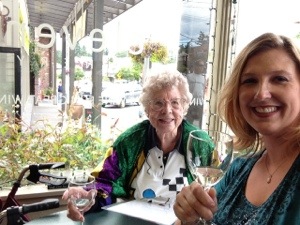 We drove through some nice trees across one small bridge to Bainbridge Island, parked and thought we could walk up and down the little street to see what shops or restaurants looked interesting. I saw a wine tasting room across the street so I suggested we go there first, then walk down that side and back up the other side of the street to the van. Eleven Winery is carbon-neutral, and says all their profits will go to charity. No chardonnays (woohoo!), the pinot grigio, Viognier and a Donella were quite good, and their syrah port was sold out but their white port was too sweet for Grandma but excellent for me!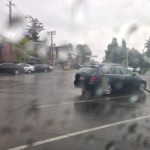 By the end of our wine tasting the sky had turned gray, and it started pouring down hard! Even Grandma was shocked at how heavy it was! We were hoping it might let up enough to keep browsing, so we looked in the shop next door since there was a wide overhang, but it just got worse and worse! Grandma had left her umbrella in the car, so I took my raincoat out of my bag, ran to get the van & drove down to pick her up. My shoes were soaked pretty good by the time I got Grandma and her walker into the van! We decided we could at least drive around the rest of town to see what we could see before we left for home, and maybe find somewhere to eat dinner.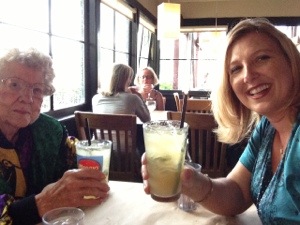 I had googled Bainbridge Island on my phone and found a whole bunch of restaurants, including one called Doc's Marina Grill that sounded good and not too expensive. In our driving tour we turned a corner, and there it was! It was still raining hard so I dropped Grandma at the curb and parked. Grandma was to chilly in the slight breeze or it would have been nice to sit on their covered open patio. Even inside in our booth we could still see the nice view of the marina.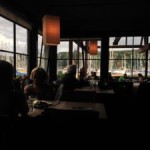 Grandma thought their margarita sounded tasty, so I decided it was Margarita Thursday this week since I'm missing Margarita Friday back home! Grandma had tempura prawns & chips, and I had Dungeoness crab risotto, and I still have leftovers. Very tasty!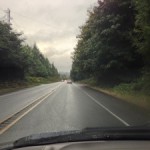 It was still rush hour time so we didn't take the ferry to Seattle to make a loop, so we drove back north the way we came, waited another half hour for the return ferry, then after a quick grocery shopping trip in Edmonds, we were home by 8:30pm. Grandma wanted to go to bed early but I looked at my watch while we were talking at it was 11:30 already…oops!
Tomorrow we're having lunch in Bellevue at my aunt's house with a couple of my grandma's friends. Sounds like it might be all ladies who lunch? 😉