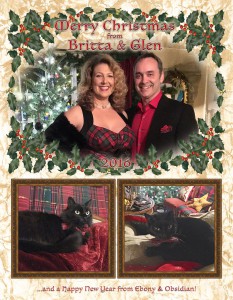 I haven't created a Christmas photo the past couple years since I thought everyone knew what my year was like due to Facebook and my blogs, plus I couldn't get decent photos of all three kitties and myself. However even though we are already well past New Years, this year I have major updates to announce, so let's get started…
Grandma has had a harder year healthwise, so I surprised her in March for a quick weekend to cheer her up in the hospital before she could return home. Her travel is now restricted due to congestive heart failure, so we didn't do a big trip this summer like our Hawaii cruise in 2014 and the Canadian Rockies in 2015, but I did visit her in July for a few days. She was well enough to thoroughly enjoy her 102nd birthday in November with a party that kept growing larger as she invited more people! We spent Christmas at her house, like the majority of my entire lifetime of Christmases, and we are all thankful she still has all her personality even if her body is "finally starting to wear out" as she put it.
My big trip this year was in June when Glen & I took an ambitious road trip around Spain, seeing 26 Spanish castles in 10 days, even staying overnight in 9 castles! I'm sure you won't be surprised that I took a TON of photos, over 3300 in fact! You can see select photos and read about the whole trip in the Travels section on britta.com if you like.
After celebrating 16 years working for Equinix, still thankful it pays for my house and other things I enjoy, summer was more fun working on Halloween projects between hosting my annual 4th of July fireworks party and three Cinema Brittahytta backyard movie nights, then by the end of August, Glen and I were officially dating! We first met 9 years ago when he attended my Halloween party with mutual friends, and our friendship has grown closer the past 5 years after he volunteered to help with my Halloween projects, so it is wonderful to have such a strong relationship before adding romance.

My big annual Halloween party went well as the Webmistress hosted a Victorian Halloween at Castle Brittahytta, with a new spider food menu and a front show with original music and over 10,000 spiders crawling over the castle walls and gravestones as the Waltz of the Spiders, but sadly our November was rough, starting with Glen catching an awful flu before we left Grandma's birthday in Seattle. Thankfully I stayed well to take care of him, but he was miserable for a couple weeks and was only barely well enough to feel human again when I found out my beloved "dog in a cat's body" Onyx was in end-stage chronic kidney failure at only 9 years old. I gave Onyx one last night of love, then Glen held me as I held Onyx as he left his pain behind. The next day we flew to San Antonio as scheduled to meet some of Glen's family for a Simon Thanksgiving at Bret's house, with Frank and Lisa also visiting, and to see my highschool friends Amanda & Anne, which was a really great trip…remember the Alamo! We had turkey #2 as a Peterson Thanksgiving on Friday in Roseville with my parents Diane & Gary and brother Erik, getting my fresh Christmas tree and fresh apple cider at Apple Hill the next day according to tradition…a whirlwind week but grateful we could visit both our families!
Glen & I both caught colds to start December, but thankfully by my Holiday Happy Hour party on the 11th, we were both healthy again, ready to host our friends for Christmas at the Castle while wearing the new red & green tartan dress I made for our fancy Christmas photo, and ready to take on the rest of the holiday season and 2017…starting with an East Asia cruise in February!
We hope everyone enjoyed a happy holiday season, and may you have a fabulous 2017!
– Britta, Glen, Ebony & Obsidian from Brittahytta in Santa Clara, California