Assorted Cake Creations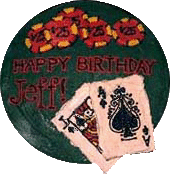 Birthday cake for Jeff Ouye...He was a blackjack dealer at Lake Tahoe for many, MANY years...The cards are graham crackers and the betting chips are vanilla wafers, all frosted for decoration...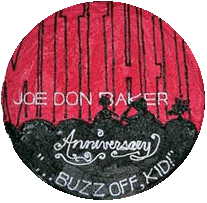 This is a big inside joke, but you'll at least get some of the reference if you recognize it as Mystery Science Theater 3000...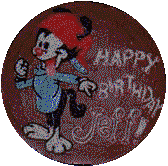 Birthday cake for Jeff Johnson...Wakko is his favorite of the Warner Kids from Animaniacs...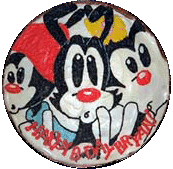 Bryan also enjoys the Animaniacs...and I really like this circular image, so I just had to reproduce it on a cake!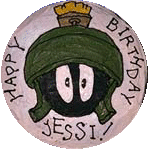 Jessi's favorite character is Marvin the Martian from the classic Looney Tunes episodes...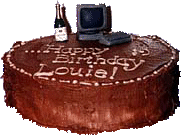 Louie traditionally has had Star Trek or computers as his cake themes...Maybe one of these days I'll think of something else...? The champagne candle was purchased, but the computer (including the mouse and connecting cable!) is made of marzipan...




Yes, Tracia has always been a Darth Vader freak, so I had to do this...I made a stencil of the famous starfield image, then sprinkled powdered sugar on the chocolate frosting so that the less dense sprinkles would simulate the stars in the background...




Amy's 21st birthday cake...Note the vintage on the bottle is the year she was born? The bottle is actually more cake I made in the form of half a bottle frosted and set on the top of the cake...



This was my first attempt at using marzipan...I think it turned out pretty well. Steph loves flowers, can you tell?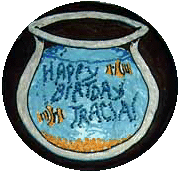 Tracia's 28th birthday cake...I realized I had never yet addressed her love of tropical fish...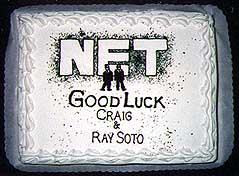 This is basically another inside joke...The Netcom meeting planned by Craig used a Men In Black theme the previous year, so for the going-away cake for him, we decided to play on that...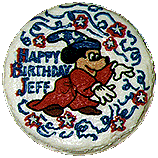 This was Jeff Ouye's birthday cake for 1998...Sorcerer Mickey is his favorite Mickey, hence this design...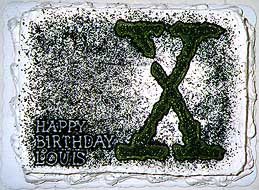 Louis Lin is another avid X-Files fan, so I thought he'd like this cake for his birthday...note how "Happy Birthday Louis" is written at the lower left and in the same font as the locations that type out during the show...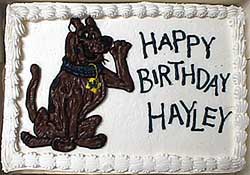 Peggy's daughter Hayley was having a Scooby-Doo themed birthday that year, so I was commissioned to do this design...don't even ask about what actually happened to the cake before the birthday girl even got to see it... :-(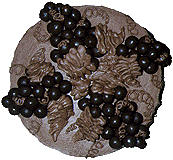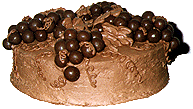 I saw this concept for an elegant monochromatic chocolate cake on a cooking TV show, and I think I executed it pretty well...The "grapes" are malted milk balls...This was used for Steph's welcome-back/birthday party in 1998...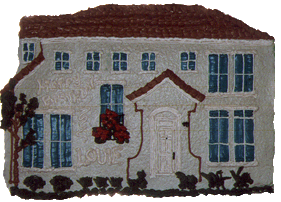 Louie had just moved into his new house in Mountain View the summer of 1998, so I thought it very appropriate to duplicate his new house as a cake, including getting the frosting the correct stucco pinky-brown!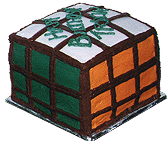 When Tracia turned 30, she had an 80s party, so I decided a Rubik's Cube would be perfect...This is 4 square layers and it's STILL not quite tall enough to be a real cube!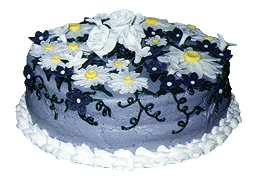 Yes, you already know this must be another Stephanie cake because of the flowers, however, these are much more delicate because they are made of gum paste. Gum paste mix can be purchased wherever cake decorating supplies are sold, and you just use powdered sugar like you use flour for dough, with food coloring mixed into the gum paste if you like.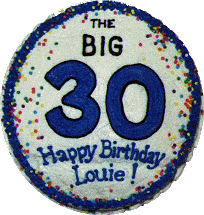 Louie's 30th birthday could not go uncelebrated!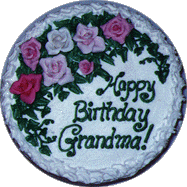 My grandmother was in town for her birthday in 1999, so I made more gum paste flowers to decorate her cake.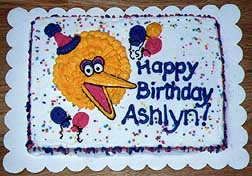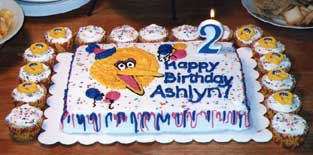 Sesame Street was the theme for Ashlyn's 2nd birthday, so of course it had to be Big Bird on the cake!
Big Bird has always been my favorite Muppet...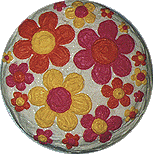 The Disco Diva herself had a 70s party when she turned 30, so I thought this Flower Power cake did double-duty for Stephanie's love of flowers AND the 70s stylish look...





Ashlyn's 3rd birthday was Blue's Clues all the way, complete with the actual CAKE being blue inside by request! Her dad Doug even dressed up and acted silly like Steve, and we had to figure out the "clues" placed around the house.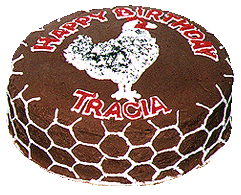 I realized I hadn't ever made Tracia a cake referring to her love of chickens, especially the black & white speckled ones...note the chicken wire design around the edge...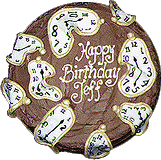 Anyone who knows Jeff Ouye knows he has his own 'fluid' version of time that is very 'surreal' to the rest of us who live in the real world, hence taking my inspiration from Salvador Dali's The Persistence of Memory. The clocks were made from plain white gum paste, left to dry completely draped over supports when necessary. A very fine brush with black food coloring was used to hand-paint the clock faces, and edible gold dust powder was mixed with water to paint the gold casings. Once all the clocks were completely dry and the cake was frosted, the clocks were carefully placed on the cake, using a daub of extra frosting when necessary.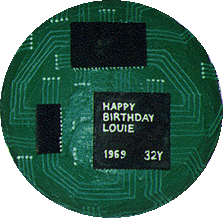 Louie got a circuit board for his birthday this time, complete with chocolate "chips"...the circuitry even partially extended over the sides of the cake...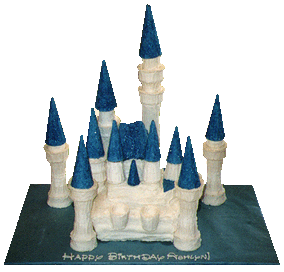 When Tracia told me she thought the Disney castle might be a neat cake idea for "Ashlynland," Ashlyn's 4th birthday party, she was just thinking of a flat cake shaped like a castle...but I took it as a challenge to make it full 3-D, just as seen in the computer-animated opening credits of the Pixar Disney films...I used various kinds of ice cream cones to make the towers and turrets, so that gives you a sense of how large this cake was...blue edible glitter is on the turrets over blue icing, and royal icing held all the towers together the night before so they were fully solid before putting it together...needless to say, this cake was assembled onsite and stayed in the middle of the food table, even for blowing out the candles, but it worked out great!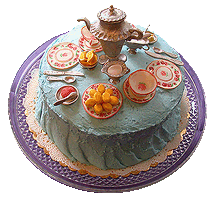 We did a Victorian tea party theme for Jenny's baby shower, so on an 8" round layer cake as the table, I made miniature gum paste rose-pattern "china" plates, silverware, scones, tea sandwiches, lemon slices, clotted cream, with even a miniature tea service with teapot, creamer and sugar bowl! For all the silver I used edible silver dust mixed with water, and I hand-painted the rose pattern with food coloring and my smallest watercolor brush. I have to say I am quite proud of this one... :-)




I didn't stop making Edible Art, and not all have been cakes, but the majority of my projects of the past decade are stuck in blog setup limbo for now.
Thankfully I can still show you these projects!

Spinning Disco Ball Cake



I made a fancy cake every year for Ashlyn's birthday since she turned 2, and I continued honing my skills over the years. As my grand finale for her 13th birthday disco party in 2010, I added some electronics & special effects lighting to my repertoire to create a Spinning Disco Ball Cake that actually reflected lights around the room! Full details with photos are here, but I made a custom silicone mold for all the decreasing angles of the sugar glass tiles, painted the backs with silver luster dust so they reflected just like real little mirrors, used black royal icing to glue them to both rice cereal treat hemispheres, mounted onto a PVC post connected to a DC motor underpowered by fewer batteries, then hid the electronics inside a "cake" box that showed the birthday message and hid some battery color-changing lights inside old film canisters at each corner. I still love how this cake reflects light just like a real disco ball! :D

Ghoulish Gingerbread Haunted House




Over 50 hours of edible art work are collapsed into this stop-motion video of the Ghoulish Gingerbread Haunted House I made for my Halloween 2011 party. The back of the oversized gingerbread house was open so I could make edible furnishings inside including a glowing crystal ball, glowing lab equipment, custom wallpaper, with even an edible pipe organ, so my guests could play the "Spot 13 Spooky Stories" game identifying which character references they could find. This edible art project is highlighted inside the book Eerie Elegance Eats: A Halloween Cookbook of Creepy Cuisine.

Giant Gingerbread House Demolition




After 50 hours construction for Halloween, then another 20 hours redecorating it for Christmas, the Giant Gingerbread House needed to go out in a blaze of glory!

Kids, do NOT try this without adult supervision! We are grownups, we had a hose at the ready, the grass was wet, the house was up on a firepit, and the fire was monitored the entire time until it burned out...and the moral of the story is that dry ice bombs can still go off 30 minutes late, so be careful! :)

Steamcake Cinema




I really enjoyed making the steampunk-themed projection cake for Vintage Doug Aged 50 Years, including so many fun gilded modeling chocolate pipes & straps & gears, dragee rivets, and even a chocolate Victrola horn. Even the gum-paste screen was edible!

Musical Joconde Imprime Chocolate Mousse Cake




Watch how I made my first joconde imprime cake inlay technique for musician extraordinaire Ruth's birthday, with the chocolate tuile melody for Happy Birthday embedded in almond sponge cake around the edge of a chocolate mousse and ganache cake. The birthday girl loved it and even sang along while taking a video all the way around the cake! :)

Fifty Years of Glen Cake




For Glen's big milestone birthday party in 2017, I secretly made him a vintage toys cake for Fifty Years of Glen, complete with blue-green shag carpet like his family home growing up, Battling Tops, Hot Wheels, Dungeons & Dragons manual with hand sculpted dice, Legos, lighted Simon memory game, Lite Brite birthday message, and rear-projected custom video inside the gingerbread TV including show bumpers and vintage toy commercials! We sang to the birthday boy in over-the-top harmony, he blew out his crayon candles, and he made an extra-special wish that has since been granted. :)


---