The Last Train from Paris
These are pictures from The Last Train from Paris,
a murder mystery party that Louie Lee hosted at his new house on September 12th, 1998...
By order of General Fargonne de Rearre, Commandante of the 16th Armee de la Republic:
The below-referenced civilian, as bearer of this authorization, shall be admitted, together with necessary baggage and personal belongings, aboard the private pullman car "Desire," attached to a military train due to
Paris, Gare d'Austerlitz, Platform No.7, at 1700 hours, 13 June 1940.
Khover T. Ageante.....................Jeff Ouye
Princess Idelle Chattre...............Stephanie Manansala
Malcolm R. Conntint...................Mel Manansala
Mary K. Trairie.......................Heather Bloom
Capt. Weyland W. Awfcorce..............R. Douglas Barbieri
Barbra Z. Enhussie....................Tracia Barbieri
Duke Schwazhe B. U. Klare.............Scott McComas
Belinda Screete.......................Britta Peterson
Master Chef Lester "Les" K. Arrgowe...Louie Lee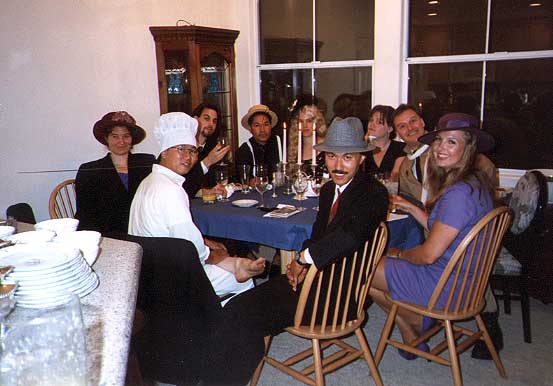 Clockwise around the table, starting with the host, Master Chef Lester "Les" K. Arrgowe (Louie Lee):
Mary K. Trairie (Heather Bloom), Duke Schwazhe B. U. Klare (Scott McComas), Malcolm R. Conntint (Mel Manansala), Princess Idelle Chattre (Stephanie Manansala), Barbra Z. Enhussie (Tracia Barbieri), Capt. Weyland W. Awfcorce (R. Douglas Barbieri), Belinda Screete (Britta Peterson), and Khover T. Ageante (Jeff Ouye)...


The Suspects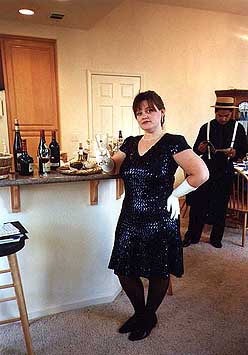 Tracia Barbieri as Barbra Z. Enhussie...

Barbra may be described in a few words--"rich, spoiled and beautiful." Daughter of the late French perfume king, Louis Z. Enhussie, she was brought up in extravagance and has carried on the tradition of the Enhussies in all respects. Chateau Enhussie, on the outskirts of Paris, and Barbra's luxurious apartment in the city are centers of lavish social activity. Everyone who is anyone is a regular at Barbra's.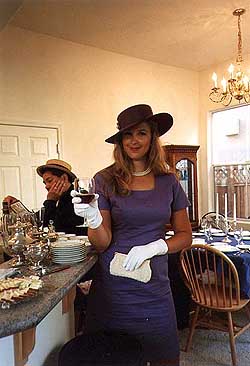 Britta Peterson as Belinda Screete...

A "couturiere extraordinaire" is the way Belinda is described by her wealthy clients. Usually she just blushes and responds, "Really, I'm only a simple dressmaker," but those in the inner circle of Paris society know better. Owner of a thriving high-fashion studio, Maison de Screete, this clever and well-educated American has thrust her way into the Paris fashion world. more than a caterer to the patrons of high fashion, Belinda participates in that society as actively and as well as any. Vivacious and charming, she is a frequent guest at the mansions and chateaux of wealthy and influential citizens of Paris.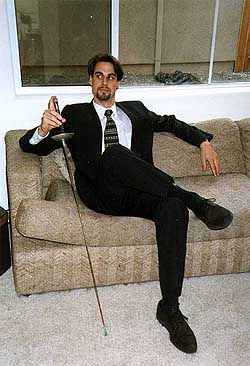 Scott McComas as Duke Schwazhe B. U. Klare...

Another royal victim of the German advance, the Duke fought his way through enemy lines to reach Paris. His own small army in tatters, he and a few hand-picked men succeeded in bringing valuable information concerning German troop disposition to the French High Command. The Duke remains a hero to his now captive people, the sturdy peasant stock of the region known as Alzase-Laverne. He is a man of noble bearing, schooled extensively in military matters and a swordsman of considerable talent. Young to be the leader of even so small a nation, the Duke is not married and is considered to be one of the most eligible bachelors in Europe.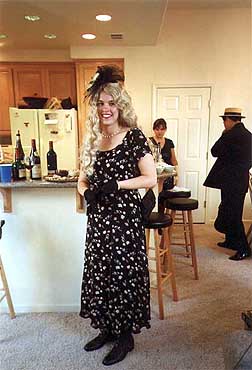 Stephanie Manansala as Princess Idelle Chattre...

A royal refugee driven to Paris by the advancing German troops, Princess Idelle is the sole surviving representative of the ancient and noble Chattre family. Those European rulers descend directly from Nonnes Taupe Chattre, who, in 1124, at the head of an army of fierce Northern tribesmen, conquered and carved out a small, heavily wooded land where his descendants now live. Despite her youth, Idelle is aware that she alone carries on the family line. Strong-willed and quick to anger, she is quite beautiful and, it is said, possessed of considerable family wealth safely invested overseas.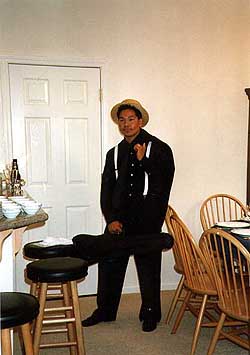 Mel Manansala as Malcolm R. Conntint...

"Mal" is a soldier of fortune. Restless, cynical and secretive, he is well-known in Paris society; it is whispered that for some undisclosed reason, Mal cannot return to his home in the United States. Some say he killed a man; some say it was an affair of the heart; others say he makes his living in the active and thriving black market of Continental Europe. Whatever the truth, Mal is a welcome participant in Paris high society where his worldly toughness stands out against a backdrop of leisured affluence.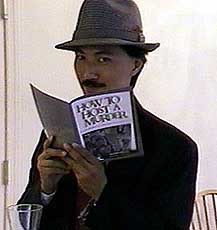 Jeff Ouye as Khover T. Ageante...

A well-traveled and worldly individual, Mr. Ageante is seldom home in the British Isles due to the necessities of business travel. Distinguished, impeccably dressed and courteous to a fault, he is welcome in the finest hotels and restaurants in Europe. Yet there is an aura of mystery about him, and no one seems to know exactly what his business is or why he travels between Berlin and Paris with such regularity.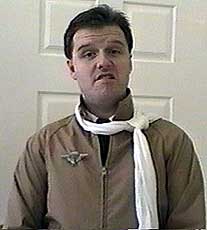 R. Douglas Barbieri as BAF Group Captain Weyland W. Awfcorce...

Known to his men as "Wey", Capt. Awfcorce is a pilot of renown. His squadron of Laklustre Bombers is likely to prove one of the most formidable armaments available to the British Armed Forces. Shot down on a reconnaissance mission over Germany before hostilities commenced, Wey evaded capture and made his way to Paris, and is now trying to return to England. Born of English nobility and educated at Oxford, Wey epitomizes the strength, endurance and noble character of that island race.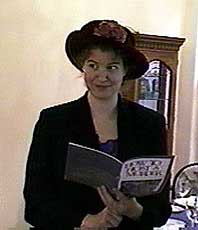 Heather Bloom as Mary K. Trairie...

A journalist for a large metropolitan U.S. newspaper, Mary has lingered in Paris to send the true story of the war in Europe home to her readers. She has interviewed men in the street, soldiers and generals, ministers of state and celebrities. her articles are published in metropolitan papers across the United States under the byline Mary Trairie, but those who know her past remember her as little Mary Kohn, daughter of the late Augustus Kohn, journalist, publisher and newshound. It was Augustus who said, "There's them that wants news and there's them that wants truth. Don't ever confuse one with the other." Mary was briefly married to a young city editor named Harold Trairie, but it didn't last. She has kept Harry's name, feeling her father's too austere.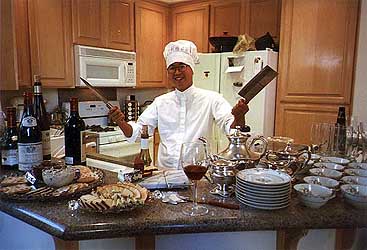 Louie Lee as Master Chef Lester "Les" K. Arrgowe...


The Party!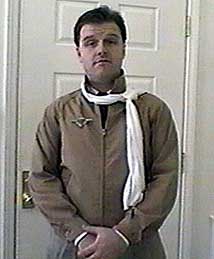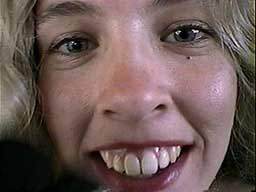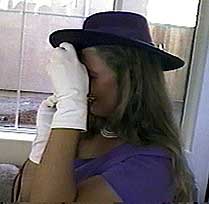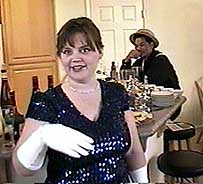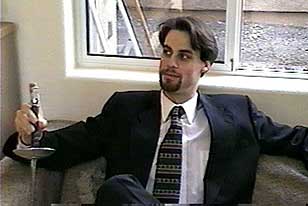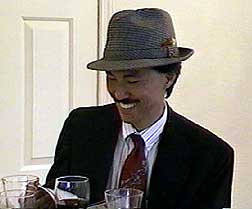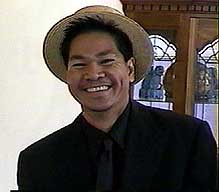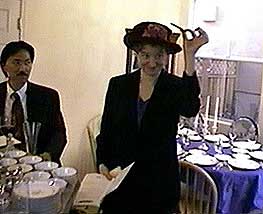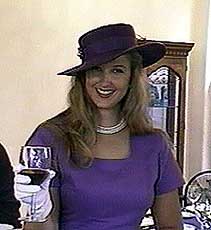 back to How to Host a Mystery...