Murder a la Carte


These are pictures from the Old West "Murder a la Carte" mystery party
that Britta hosted at her house in Cupertino on May 15th, 2004...

"Miss Tracia has a hankerin' fer a birthday laced with suspense and homemade vittles, so if you folks will kindly set aside your siesta-time on Saturday, May 15th, we'll all sally back to the Old West in Cupertino for "Bullets 'N' Barbecue!"
It is the Wild West in the year 1872. A town called Drygulch. On a clear July morning, dawn is just breaking over the tiny frontier town of Drygulch when a single gunshot rings out. The townsfolk rush to the scene and are horrified to find Sheriff Take Noble, sprawled in the dust, dead from a gunshot wound. Shot in the back. Who would do such a thing? Plenty of people. Later that day the suspects belly up to the bar at the Paradise Saloon to solve the crime.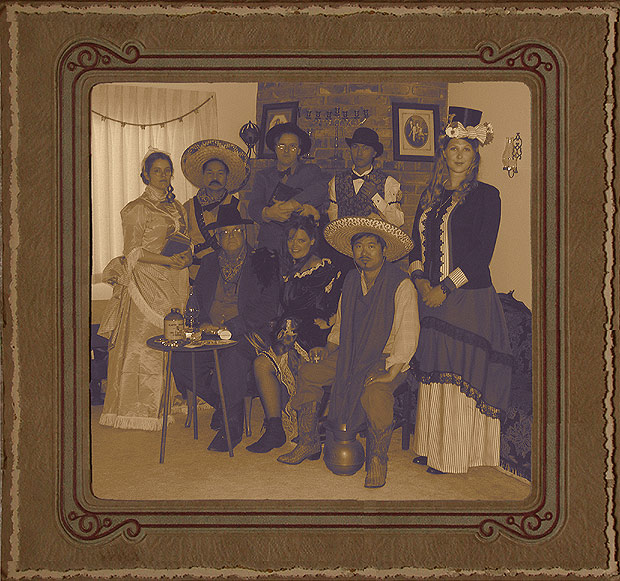 (from left)
Miss Patience..............Stephanie Manansala
Juan Bandito..............Mel Manansala
Russell Bovine..............Steve McNurlin (seated)
Doc Mallard..............Doug Barbieri
Bibi Gunn..............Tracia Barbieri (seated)
Rowdy Azell..............Jeff Ouye
Deputy Nestor..............Louie Lee (seated)
Sally Forth..............Britta Peterson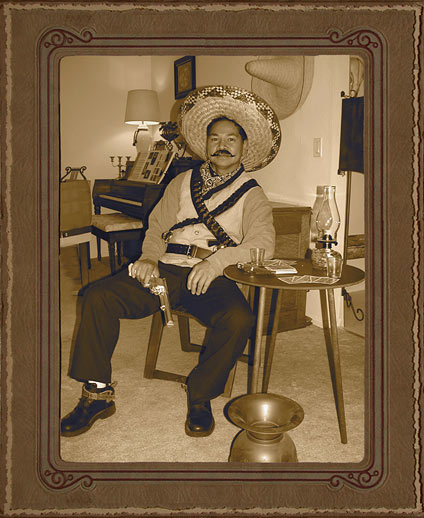 Mel Manansala as Juan Bandito...

Juan is a Mexican bandit and the meanest hombre this side of the Rio Grande. He stopped in Drygulch to give his horse a rest and to wash down the trail dust with a shot of redeye whiskey. That was when the trouble began. He wears dark jeans, a faded shirt, old western boots with silver spurs, a big sombrero, two pistols slung low and twin bandoliers across his chest.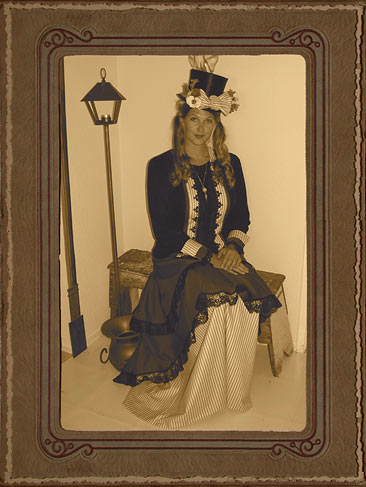 Britta Peterson as Sally Forth...

Sally is an attractive English lady who recently travelled to America to become the sheriff's mail-order bride. She arrived in Drygulch last week but it was not exactly love at first sight. The sheriff had exaggerated his handsome features and wealthy ranch holdings. She wears the latest European fashions of the time (mid-1800s), complete with bonnet and parasol. She definitely looks out of place on the frontier.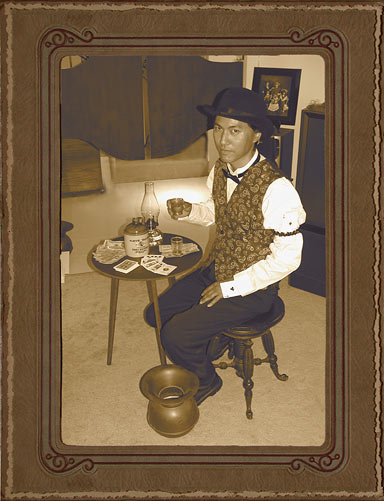 Jeff Ouye as Rowdy Azell...

Rowdy is a smooth-talking, fast-dealing gambler. He travels from town to town making his living with a deck of cards and a pair of dice. He has an eye for the ladies and no scruples about getting his way with them. He likes to wear tailored suits and polished leather boots. He smokes only the best cigars and always carries a deck of cards and a wad of bills for poker ante.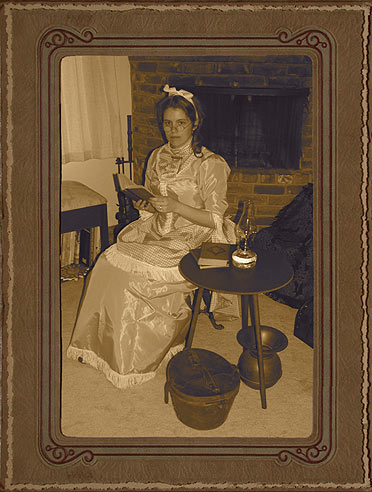 Stephanie Manansala as Miss Patience...

Miss Patience is the town's prim and pretty school marm. Although she looks too sweet and innocent to be a suspect, she was engaged to the sheriff until he mysteriously cancelled their marriage plans three months ago. Neither of them are saying why. She prefers to wear long dresses suitable for riding sidesaddle, ladies western boots, a ribbon in her hair and wire rim spectacles. She is often seen carrying an armful of books.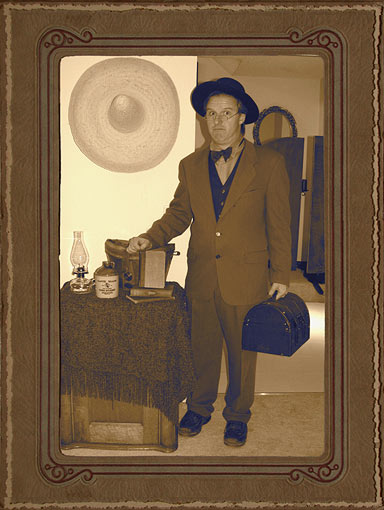 Doug Barbieri as Doc Mallard...

Doc has been doctorin' the good folks of Drygulch for the past thirty years. He has patched bullet holes, mended broken bones and delivered babies. He has lost a few patients but that was mostly due to their bad luck. He does not put much stock in new, fandangled medical ideas. He wears a shabby three-piece suit with buttons missing, an out-of-fashion bow tie and a fob watch. He carries a black medical bag complete with whiskey flask (for medicinal purposes only).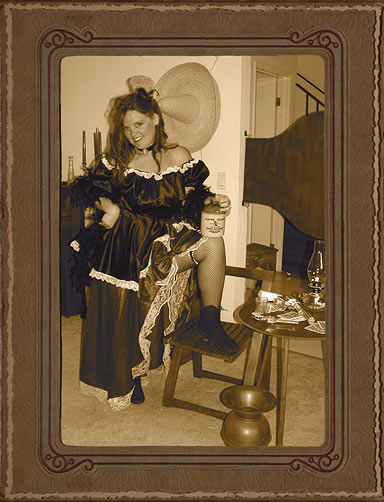 Tracia Barbieri as Bibi Gunn...

Bibi is an entertainer working at the Paradise Saloon. The cowboys come from miles around to hear her sing and watch her dance. She flirts and teases them into buying drinks and after they get "skunk-eyed," they reveal all sorts of profitable secrets. She wears scanty outfits with lots of frills. Her heavy makeup, black stockings, high heels, and ostrich feather headband give her a very seductive look.




Before we start, photo time!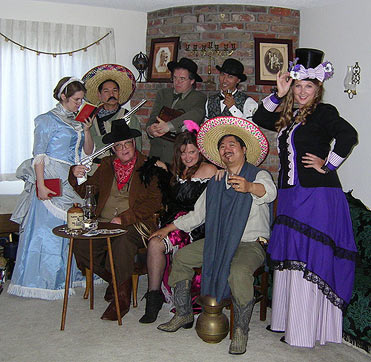 The Mystery Begins...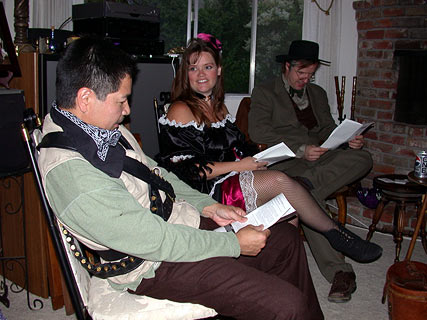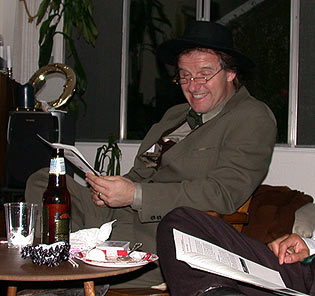 Reading our parts...Doug gets into character!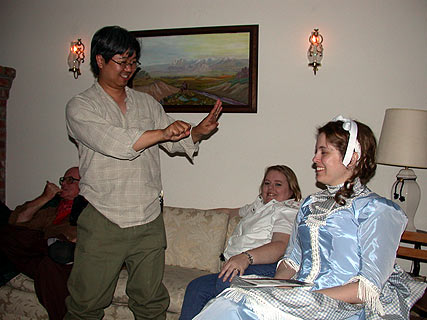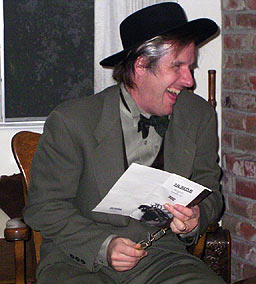 Louie acts out the Narrator's lines from the cassette tape...Laughing Doug...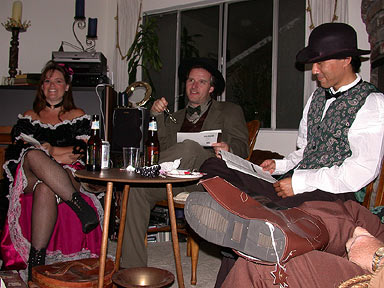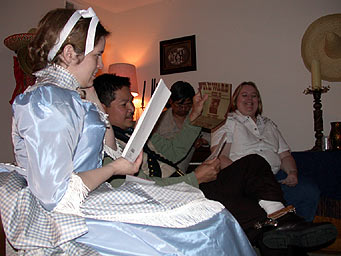 Is this Method Acting? More mystery...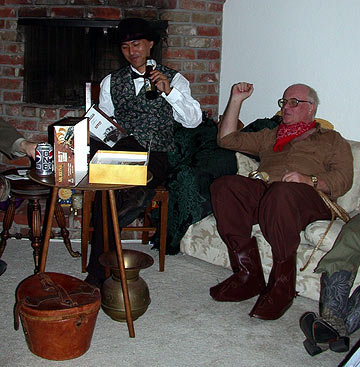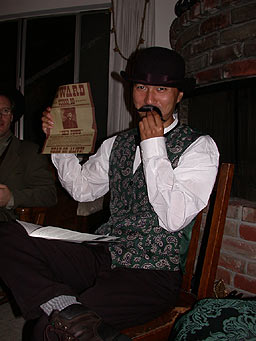 Even more mystery...oh no, Jeff is WANTED!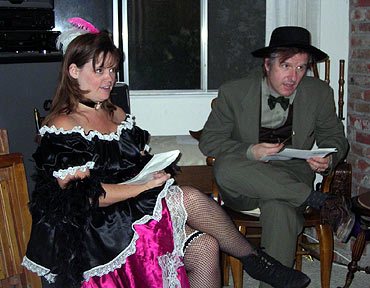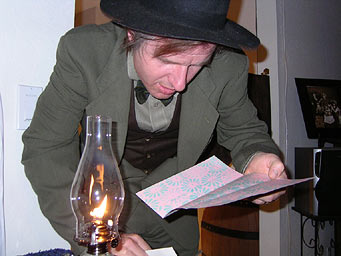 More mystery...Doug reads a Secret Clue by lamplight...



Bibi Behind the Bar...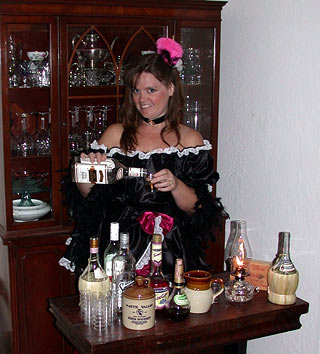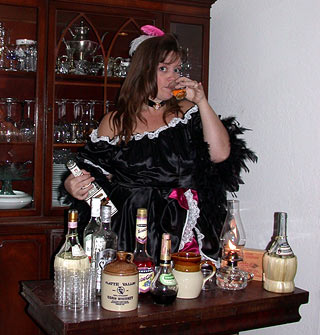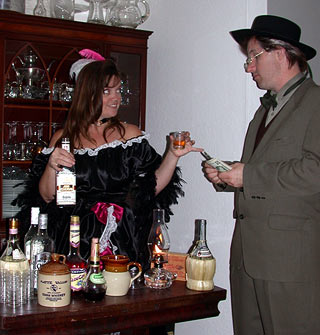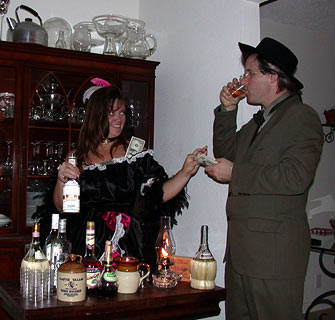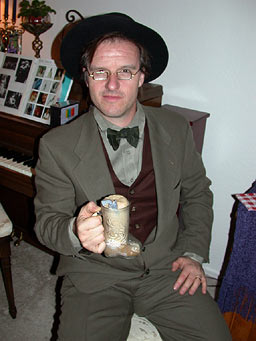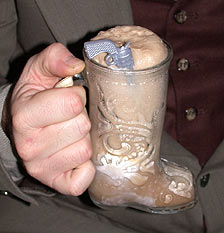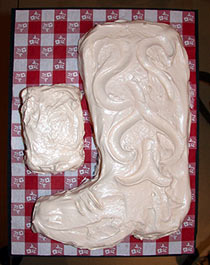 Boot Beer Floats and Birthday Boot Cake!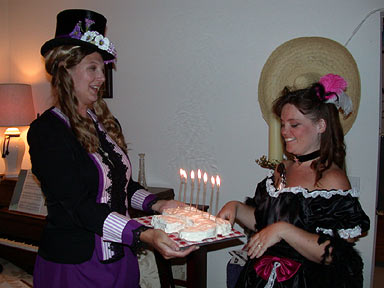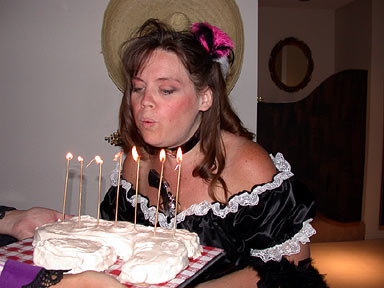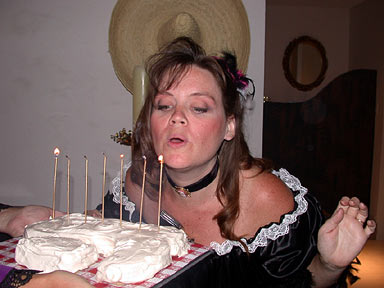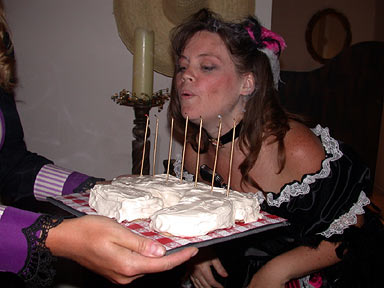 Cake and Candles...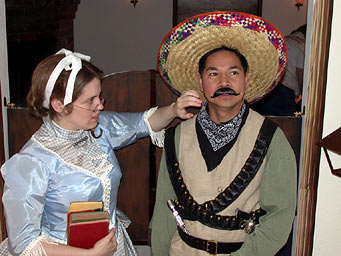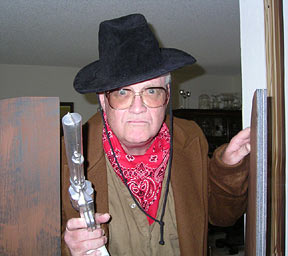 Fixing the Moustache...Ornery Bandit!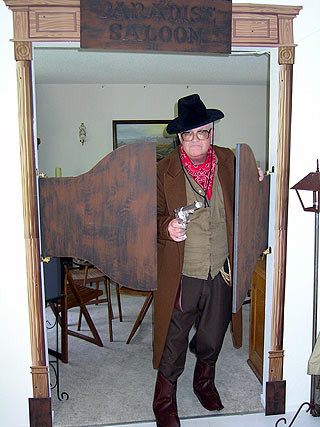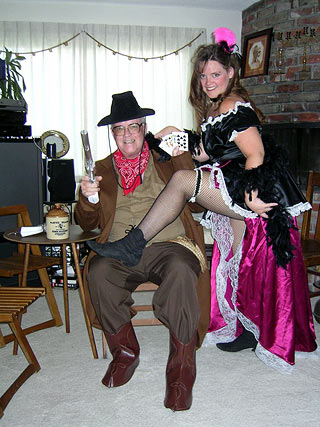 Who's coming through the saloon doors?!? It's Tracia's Dad!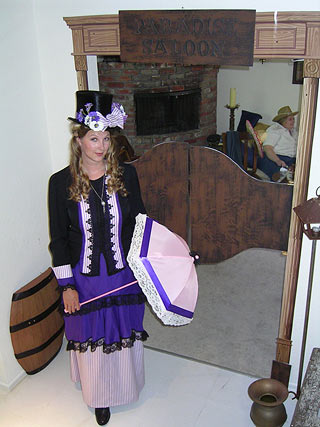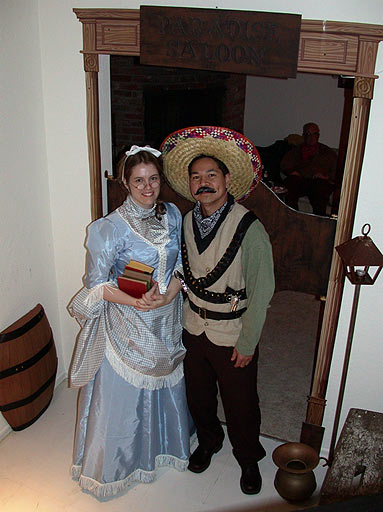 Suspicious Sally with her parasol...Stephanie and Mel...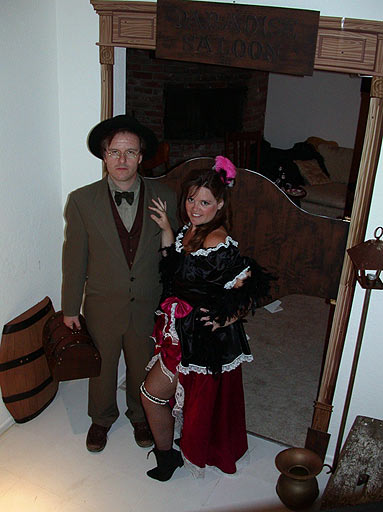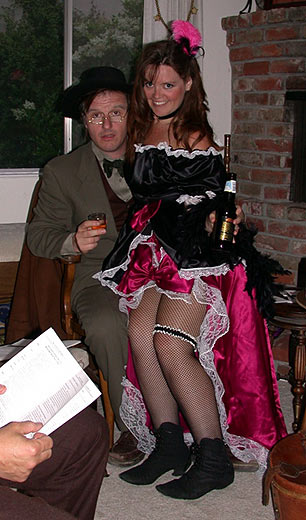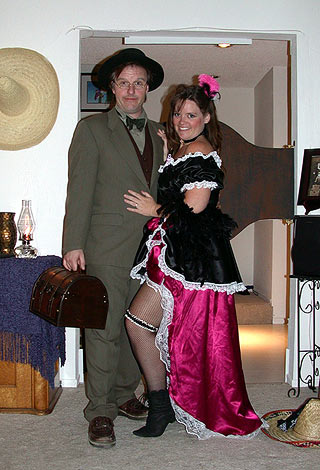 Three versions of the birthday girl and her husband... :)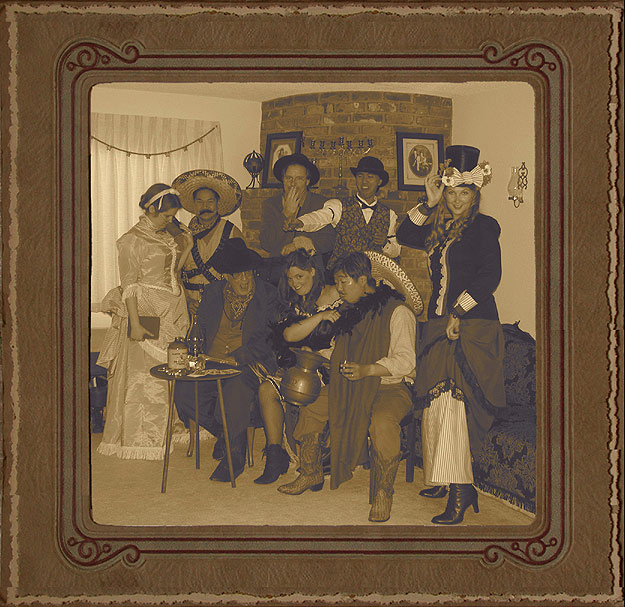 The Silly Posse!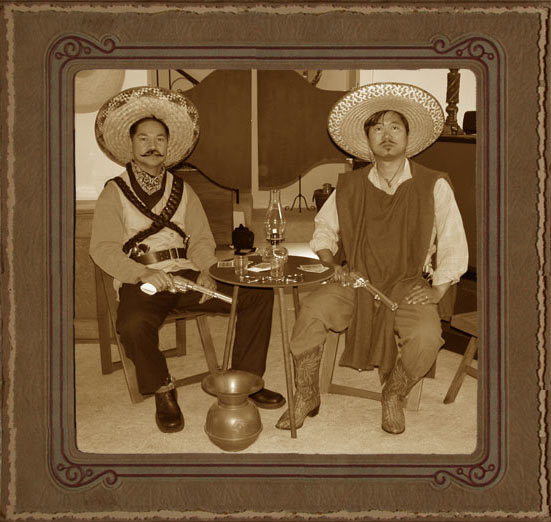 The Two Amigos...?