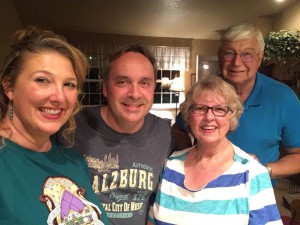 Life changes in an instant. My dad called me from Alaska and sang me Happy Birthday on Friday July 27th, but Monday morning July 30th he passed away from a massive heart attack in his own bed. He was such a great father my whole life, and I am so thankful he was able to walk me down the aisle for my wedding and meet Glen's family, but now I will miss him forever. I am so thankful I remembered to take a photo during our May visit, since now this is the last photo I have with my dad.
On Friday, August 3rd, 2018, we wore bright colors to honor my dad Gary with A Celebration of a Life Well-Lived. I knew I couldn't handle singing a solo for him, but I was able to join with the congregation for two hymns and his request for a rousing recessional of When the Saints Go Marching In. Over 200 family & friends came from near and far, and so many attended the service that the parking lot overflowed, the greeting line stretched out to the parking lot, and the sanctuary was almost standing room only. I am so proud of my father that he inspired such a sense of community in all his walks of life: family, church, neighbors, hunting & fishing buddies, and lifelong friends from his college days. We will all miss him terribly, but we gave him a sendoff he would love: military honors, Music Box Dancer as he has requested as long as I can remember, bright colors, fun and moving stories, a rousing recessional of When the Saints Go Marching In…and a luncheon with an overflowing table of Scandinavian desserts. Thank you to everyone who took time out of their lives to attend the service. We really appreciate all the support. (Click to enlarge this photo from the back of the church, and more photos from the service and luncheon are included below.)


My mom is always busy with multiple activities and has so many friends that she will be okay eventually, just like her widowed mother before her, but I was glad my co-workers were understanding that I could stay with her all week, accompany her to the mortuary for final arrangements, plan & attend the service, open bank accounts, attend church with her on Sunday morning, and start going through Dad's things. Glen was a true blessing to drive me and be my rock all week each time I broke down in tears myself, but I feel guilty that I have Glen but my mom no longer has her life partner. We had planned to visit the following weekend to celebrate my birthday & Glen's with family, both Mom & Dad were going to meet our new kitten Midnight, Glen & I had gifts for my parents for their upcoming 50th wedding anniversary on August 17th, and we were finally supposed to have some official wedding photos to look at together. All those keep crushing me that they will not happen anymore, so I have to concentrate on the blessings instead…that Dad enjoyed 11 great years of retirement, I did talk to him on my birthday, he had a fantastic week fishing in Alaska, he called his brother Alan from the airport on Sunday, he had his favorite burger at In'N'Out with Mom on the way home, he cuddled his lapdog Rosie, and that he was home in his own bed with Mom when his heart stopped, before any diabetes or memory issues caught up with him any worse. He died happy without suffering, and we can't ask for anything more…but we will still miss him forever.
We filmed the memorial service for my father Gary on Friday so my 103-year-old grandmother could see it. I edited the live broadcast so you can hear all the speakers more clearly, and at the request of several friends & family, it is here for anyone who would like to watch. Click on the photo or the link to launch the video in a new window. http://www.britta.com/family/GaryPetersonService.mp4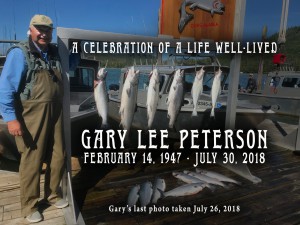 This is the slideshow of Gary's Life we showed during the memorial service. Thanks to Dixie & Joyce for creating the 2007 retirement video used in the middle of this full video. Click on the photo or the link to launch the video in a new window. http://www.britta.com/family/GarysLife.mp4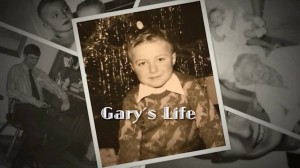 Norm Aune, Gary's college roommate, groomsman and longtime friend,
wrote this eulogy and read it at the service:
Hosea 10:12 Sow for yourselves righteousness; reap the fruit of steadfast love.
Look around the room today. It is clear that Gary sowed righteousness
as the love for him is evident today.
As you developed as a youth, I hope you too have some true and entrusted friends who share deep and life developing experiences and milestones with you. Gary Peterson was one of those for me. He is a true friend. How can one be a deeper friend than one who comfortably roomed with you in a college dorm; probably a 10' x 18' room and when the bunks were pulled out, our sleepy heads were probably no more than 4 feet apart. Our junior year, 1967-1968, was transforming. Gary was deep into his business classes, me in my education classes. Then there was the escalating war in Viet Nam and our possible draft into military service if we didn't perform well in class and still there upon our graduation. Martin Luther King Jr was murdered in April of 1968 and in June Robert Kennedy was assassinated. Police and antiwar protestors violently clashed outside of the Democratic National Convention in Chicago that summer.
Throughout that school year Gary and I entered into new territory. Gary knew early that Diane was the one and I had found my Barb. As our junior year progressed, with the academic demands increasing, the Viet Nam war escalating, Gary and I plunged into the world of romantic love to a level that we had never known. I can't count the many nights, our heads just feet apart, we shared the new territory that we were entering with our new found loves and the question of our life after graduation, just a year or so away.
Gary had visited my home in Lacrosse, Washington and we'd hunted pheasants and lived our family life together there. I had visited his home in Astoria and we had dug clams, baked them with his mother's recipe, and eaten them together with his family that included his Aunt Gert, who shared my March 16 birthday although about 50 years my senior. She shared many stories of her family history. My family was Gary's family. His family was mine.
Experiences that junior year included the four of us driving down to the Centralia (about half way between Seattle and Portland, Oregon) area and visiting Gary's dying grandmother in a convalescent center. She, ravaged by diabetes and a double amputee, lay at death's knell. But Gary, tending to her lovingly, bid her comfort, attention and then goodbye, his last. We then traveled out to her nearby home, overrun with weeds and forest, and in the spring sunshine, mowed and cleared away the debris, as if his grandmother would return. She didn't.
As our lives changed that 67-68 school year, the profound relationships with what would be our life mates developed. Gary and Diane were married the summer of 1968. Barb and I first talked of marriage the night of their wedding. Over the next year, we often visited Gary and Diane in that small apartment over the garage at the Howard Morgan estate on nearby American Lake. They were so happy. Gary and Diane so projected a lifestyle that Barb and I wanted to emulate. It took Barb and I another year as we were married the summer of 1969.
It's been 50 years since that pivotal year of 1968. The Petersons and the Aunes have traveled many different paths. But no matter how those paths have gone off into many directions, they have many times come back to intersect. Those intersections were grounded in shared experiences. Those heartfelt discussions of our junior year, as our heads were so close in proximity and in common experience, as we developed from those shared experiences from faith and family to envisioned future, gave root in shared values that lead us to this day. As it was in 1968, it still is today.
Barb and I bought at RV in 2003, Gary and Diane soon thereafter. We traveled together to Yosemite and Glacier and too few times into Gary's old stomping grounds around Astoria. The shared experiences were evident again in 2016 when Gary invited me to accompany him and his colleagues to the fish camp in Alaska. Again, Gary and I slept in the same room, our heads just feet apart. I brought home 100 lbs of salmon and halibut fillets, but I also brought home a whole lot more of memories.
So my dear friend and roommate, thank you for your insights. Thank you for the shared experiences from PLU to Lacrosse, to Astoria, to Yosemite, to Glacier to Alaska. Thank your sharing your faith and walking your walk. Well done, good and faithful servant. Well done. You have blessed me richly.
—
Gary Lee Peterson Obituary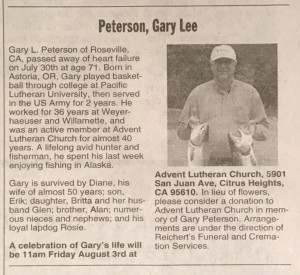 Gary L. Peterson of Roseville, CA, passed away of heart failure on July 30th at age 71. Born in Astoria, OR, Gary played basketball through college at Pacific Lutheran University, then served in the US Army for 2 years. He worked for 36 years at Weyerhaeuser and Willamette, and was an active member at Advent Lutheran Church for almost 40 years. A lifelong avid hunter and fisherman, he spent his last week enjoying fishing in Alaska.

Gary is survived by Diane, his wife of almost 50 years, son Erik, daughter Britta and her husband Glen, brother Alan, numerous nieces and nephews, and his loyal lapdog Rosie.

A celebration of Gary's life will be 11am Friday August 3rd at Advent Lutheran Church, 5901 San Juan Ave, Citrus Heights, CA 95610. In lieu of flowers please consider a donation to Advent Lutheran Church in memory of Gary Peterson.

—



—
Gary's hunting friend Bob Duffy wrote this tribute:
Saying goodby to a really good guy is never easy. I did it once about 10 years ago, I didn't like it then and I don't like it now.
This story is going to give you a glimpse into one aspect of Gary's life, one very dear to his heart. Duck hunting. A sport he loved so much, he told Diane years ago, he would like his ashes spread over a duck pond he had hunted. Diane and myself intend to make those wishes come true, spreading a small amount over the club we were going to hunt this season and one he hunted years ago.
I met Gary about 15 years ago through his shirt-tail relative, Dick Hansen, it was in a duck pond we were all hunting together at the time. One thing led to another, fishing in Alaska, goose hunting in Alberta, Gary and I soon became good friends. About 10 years ago I was putting a list together of hunting friends to find a duck club that we could hunt together. Gary was at the top of my list. We found that club in the Richvale area and I will hunt it this coming season without my friend, with a heavy heart. Now I have to get Gary's limit as well as mine and hope the game warden will understand.
Gary and I have hunted in the club these last 10 years, 3 months out of the year, November through January, once a week. We'd decide what day we wanted to hunt based on the weather, then meet at the club and have a fun day. Rain, wind, sunshine, we did it all. It didn't matter if the birds came in range, we often said, we enjoyed just watching them in flight. Chelsie, my Golden Retriever, will miss her treats Gary used to give her, sometime she'd beg him out of a bite of his sandwich. I'll miss the jerky and tangerines Gary used to bring.
Sometimes we'd stay overnight in Oroville and hunt 2 days. And we'd have dinner at Applebee's as a special treat for us, Chelsie would stay in the motel room patiently waiting for a treat, almost always she'd be on Gary's bed when we got back. Our dinner was always a rack of Ribs, I'd have a veggie and Gary would have french fries. Oh, how Gary loved his fries and ketchup. Desert was always a chocolate sundae shooter.
Being together in a blind that close for that long, you get to know a guy fairly well. We did a lot of kidding each other, sharing jokes and talking about past hunting clubs and trips that we'd taken before we met. He could be brutal kidding me about my poor shooting, always gave me the first shot, I'd miss sometimes and he'd finish the job. Gary was an excellent shot. All in good fun our joking and kidding each other. Diane asked Gary one time, what do you and Bob talk about in the duck blind. Gary's reply……………. Stuff.
I suppose now would be a good time to tell about an episode only Gary and I knew about. Diane can't get on his case and Gary won't mind me telling on him. We had decided on a hunt day and Gary always waited till I got there and we'd walk out to the blind together. This particular morning Gary decided to walk out before I got there in hopes of surprising an early bird. Walking out to the blind Gary lost his balance and slipped off the levee, probably his healing broken feet a contributing factor, and landed in the water on his backside. Says he struggled at least 30-45 minutes trying to right himself and get to his feet and back up on the levee. When I caught up to him he was on his way back to his truck for some dry clothes. What a sad looking duck hunter. Promised me, he'd never do that again. And to think, some folks think duck hunters are a little crazy.
I loved Gary. Never told him that. I suspect he had a fondness for me, also. It's not something you tell a guy in a duck blind, especially if there's a 3rd hunter in the blind. That might make for an awkward moment. We did share how much we enjoyed each other's friendship and hunting together. Can't thank Dick enough for bringing us together.
Every time I shoot a Pintail, Gary's favorite duck, I'll think of you, dear friend. I'll miss you, terribly.
Bob Duffy

—