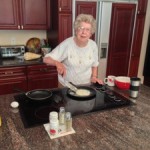 Grandma decided the leftover waffle batter should become blueberry pancakes, so here she is making them for us! We had thought we would try the Chiluly glass garden and maybe the Spaceneedle, since Linda had told us even with the big Bumbershoot music festival going on at Seattle Center, the south road into the garden was open and worth seeing. But Steven called during breakfast and had been to Bumbershoot on Sunday. He told Grandma there were "too many druggies" so we should avoid that area completely. I had mentioned trying to eat at the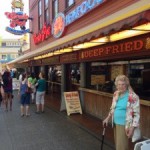 fancy place Canlis they keep talking about, so he recommended we go there. So as I was finishing my breakfast, I looked up Canlis on my phone, finding the number first for Grandma to call for a reservation, but as no one was answering, I finally found their page that shows the handful of days they are closed each year…and Labor Day was first on their list. Zero for two!
Linda had also mentioned the Argosy cruises were nice, so I was able to get a AAA discount and book our tickets online for the 3:45pm harbor cruise, so we headed for the Seattle Waterfront. We parked in a lot one block from the pier which was also one block over from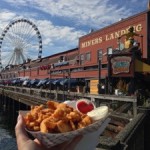 the end of Pike's Place Market. The one block was pretty long, so Grandma went very slowly but she made it! She thinks she needs more exercise like this to heal, and I agree, but we need to be careful she doesn't overdo it either.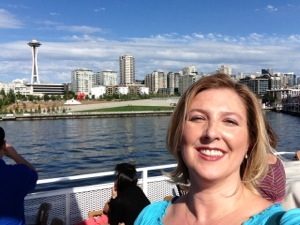 We got checked in for our cruise just fine and I left Grandma sitting at the gate while I strolled a bit more, including finding fried clams to go! I needed some protein since it was already 3:30pm, and boy were they tasty! Grandma even had a few. 😉
It was soooo hot in the sunshine…hotter than I have ever been in Seattle! I really needed the breeze but Grandma didn't want to go up the stairs, so I went up two decks for the breeze and the view for awhile. I got a lot of great photos, and this is the closest we got to the Spaceneedle.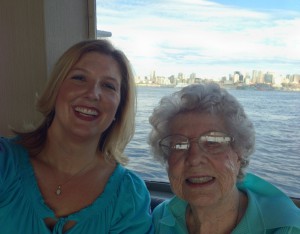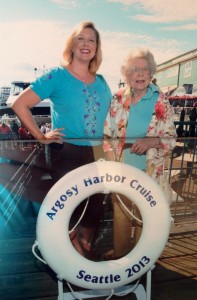 When we turned around to make our circle, I went downstairs to spend the rest of the cruise with Grandma, so I was able to get this photo when we were heading back to the pier.
Of course they take photos of you in hopes you'll buy $10 prints, but I sneaked an iPhone shot of this one. Grandma isn't looking at the camera but it's pretty good of both of us! Glad she listened when I begged her to wear something with more color than her cream sweater! 😉

I remember Ye Olde Curiosity Shop from when I was little, especially the gruesome "mermaid" hanging from the ceiling and the mummies in the back. Since it was only the next pier over from our boat, I convinced Grandma to let me take another look. You could spend hours looking at all the weird stuff in the cases, even real shrunken heads, taxidermy of two headed creatures, turtle skeletons, almost anything… and you never know when or where I might get Halloween inspiration! 😉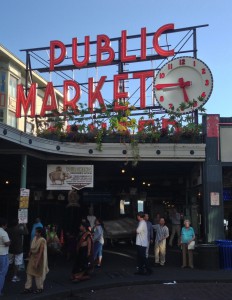 We started slowly walking back along the waterfront, but Grandma was needing more rest breaks. We saw two bike rickshaw guys, and the first guy's price was only $3 to the elevators up to the market, so that was worth it! He had to move the bike down to the street so the curb height helped Grandma get up into the seat, then we were set. Most of the market was closing already, no fish-throwing happening, but there was an excellent moving bronze statue lady!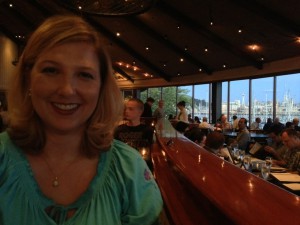 Since Canlis was a bust, Grandma thought of a nice place on Elliott Bay but couldn't remember the name so we didn't make reservations and just gambled. We found it and only about a 10 minute wait so that was perfect! Very nice staff, excellent food, good cocktails, a waterfall and fishpond inside, a player piano on a platform above the bar, and a stunning view of the marina and the Seattle skyline! We split the crabcake appetizer, a different salad for each of us, one cocktail each, and shared the creme brûlée trio…and even with 20% tip (very difficult to convince Grandma to tip that much!) our total was only $85 with both of us pleasantly full. We had yet another night talking until almost midnight! I'm so glad I have a grandmother I can talk to.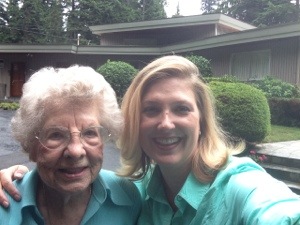 Since my shuttle was picking me up at 4pm for the airport, all we did today was run errands like gas, groceries, picked up her new checks at the bank, and more computer lessons. I did finally take a chance to feed some carrots to the goats and the horse, so you can see some cute photos if you continue to see the whole gallery below. 😉
On the plane now for the flight home! I really enjoyed my trip but didn't sleep well all week, so I am looking forward to my own bed tonight and hope my three kitties allow me some good sleep!