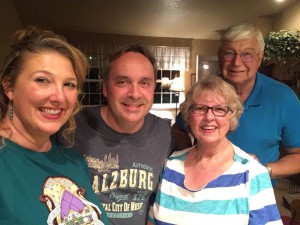 Life changes in an instant. My dad called me from Alaska and sang me Happy Birthday on Friday July 27th, but Monday morning July 30th he passed away from a massive heart attack in his own bed. He was such a great father my whole life, and I am so thankful he was able to walk me down the aisle for my wedding and meet Glen's family, but now I will miss him forever. I am so thankful I remembered to take a photo during our May visit, since now this is the last photo I have with my dad.
On Friday, August 3rd, 2018, we wore bright colors to honor my dad Gary with A Celebration of a Life Well-Lived. I knew I couldn't handle singing a solo for him, but I was able to join with the congregation for two hymns and his request for a rousing recessional of When the Saints Go Marching In. Over 200 family & friends came from near and far, and so many attended the service that the parking lot overflowed, the greeting line stretched out to the parking lot, and the sanctuary was almost standing room only. I am so proud of my father that he inspired such a sense of community in all his walks of life: family, church, neighbors, hunting & fishing buddies, and lifelong friends from his college days. We will all miss him terribly, but we gave him a sendoff he would love: military honors, Music Box Dancer as he has requested as long as I can remember, bright colors, fun and moving stories, a rousing recessional of When the Saints Go Marching In…and a luncheon with an overflowing table of Scandinavian desserts. Thank you to everyone who took time out of their lives to attend the service. We really appreciate all the support. (Click to enlarge this photo from the back of the church, and more photos from the service and luncheon are included below.)


My mom is always busy with multiple activities and has so many friends that she will be okay eventually, just like her widowed mother before her, but I was glad my co-workers were understanding that I could stay with her all week, accompany her to the mortuary for final arrangements, plan & attend the service, open bank accounts, attend church with her on Sunday morning, and start going through Dad's things. Glen was a true blessing to drive me and be my rock all week each time I broke down in tears myself, but I feel guilty that I have Glen but my mom no longer has her life partner. We had planned to visit the following weekend to celebrate my birthday & Glen's with family, both Mom & Dad were going to meet our new kitten Midnight, Glen & I had gifts for my parents for their upcoming 50th wedding anniversary on August 17th, and we were finally supposed to have some official wedding photos to look at together. All those keep crushing me that they will not happen anymore, so I have to concentrate on the blessings instead…that Dad enjoyed 11 great years of retirement, I did talk to him on my birthday, he had a fantastic week fishing in Alaska, he called his brother Alan from the airport on Sunday, he had his favorite burger at In'N'Out with Mom on the way home, he cuddled his lapdog Rosie, and that he was home in his own bed with Mom when his heart stopped, before any diabetes or memory issues caught up with him any worse. He died happy without suffering, and we can't ask for anything more…but we will still miss him forever.
We filmed the memorial service for my father Gary on Friday so my 103-year-old grandmother could see it. I edited the live broadcast so you can hear all the speakers more clearly, and at the request of several friends & family, it is here for anyone who would like to watch. Click on the photo or the link to launch the video in a new window. http://www.britta.com/family/GaryPetersonService.mp4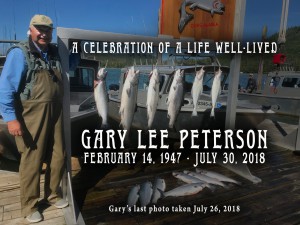 This is the slideshow of Gary's Life we showed during the memorial service. Thanks to Dixie & Joyce for creating the 2007 retirement video used in the middle of this full video. Click on the photo or the link to launch the video in a new window. http://www.britta.com/family/GarysLife.mp4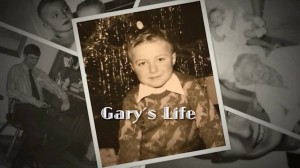 —
Gary Lee Peterson Obituary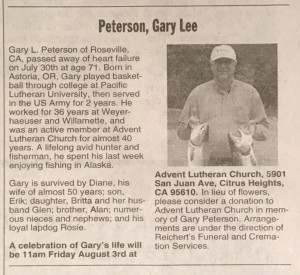 Gary L. Peterson of Roseville, CA, passed away of heart failure on July 30th at age 71. Born in Astoria, OR, Gary played basketball through college at Pacific Lutheran University, then served in the US Army for 2 years. He worked for 36 years at Weyerhaeuser and Willamette, and was an active member at Advent Lutheran Church for almost 40 years. A lifelong avid hunter and fisherman, he spent his last week enjoying fishing in Alaska.

Gary is survived by Diane, his wife of almost 50 years, son Erik, daughter Britta and her husband Glen, brother Alan, numerous nieces and nephews, and his loyal lapdog Rosie.

A celebration of Gary's life will be 11am Friday August 3rd at Advent Lutheran Church, 5901 San Juan Ave, Citrus Heights, CA 95610. In lieu of flowers please consider a donation to Advent Lutheran Church in memory of Gary Peterson.

—