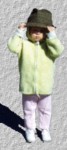 I have loved hats since I was tiny, but didn't start my own collection until my father's father passed away when I was 12, when my grandmother asked if I would like any of his hats. I only took two of his, still treasured, but my collection has grown so much over the past 30 years that I didn't know how many hats I had. I decided 2015 was the year of hat inventory, so I would document every hat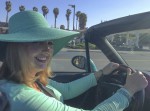 I own, hopefully wearing in public with an appropriate outfit. The end goal was to reorganize everything based on what I would wear again most frequently and what needs the most protection…but wearing my hats throughout the year was a much more fun way to do it.

I didn't count headbands, antennae, crowns, or tiaras as hats, and I still ended up with 170! Click the link to view my entire hat collection in all its glory!

January 1st
This is how I rang in 2015! Here is my New Year's Eve outfit including my dressed-up mini top hat fascinator I got in Vegas. Note I matched the tablecloth!
January 2nd
Fuzzy today for the first Margarita Friday of 2015. Not sure if I'll do any official Hat of the Day but I will be taking inventory and wearing hats I haven't worn in a long time or sometimes ever. I think this black fur hat is one I inherited from my mom Diane.
January 3rd
Hat inventory in progress. Can you guess which one I wore to Annual Game Night tonight? Fellow attendees are disqualified. 😉
January 4th
Trying a new hike for the new year…wish us luck! I've worn this hat hiking in Scotland too!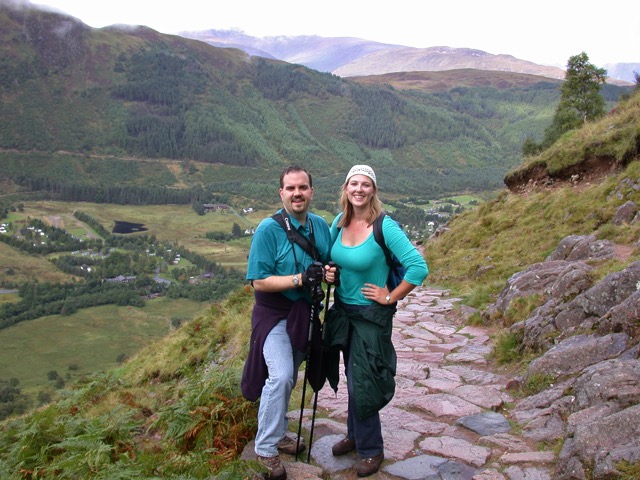 January 7th
More hat inventory: Two vintage family hats that aren't really my style, from the early 1960s perhaps? The flowered cap I can't see wearing with anything I own and not sure I am wearing it correctly, but that's the only way it fits on my head and the label direction inside gave me a clue. The powder-aqua feather creation with stretchy fabric band I might be able to match to an outfit, but the veil is so fragile I thought it might disintegrate just from touching it. At least the feathers are still in good shape. I don't know if I am even wearing these hats properly?
January 8th
Risks of doing hat inventory…Ebony decides all the winter hats and scarves are nice and cozy!
January 9th
Brown fur hat purchased on Red Square at the foot of St Basil's Cathedral in the USSR June 1990. Whether the military emblem that came on it was real or not, I still removed it and hid it separately in my luggage before possibly getting stopped at customs when leaving the USSR. 😉
January 12th
Seven more for hat inventory, not worth modeling since they're just baseball caps. I also used to have 2 Miata caps I was given by the dealer when I bought my car but they got ruined in the trunk one year. I can ditch the two on the left that I got for free from working at the movie theatre but I think I'll keep the others for historical reasons, so that's 5 to keep…
January 13th
Four more historical hats. Sorry to my peering peeps but I think I'm going to ditch the GPF visor. 😉 Definitely keeping the vintage Netcom though!
January 15th
After purging some baseball caps & visors, we are up to hat #21, handknit this time to go with the cozy sweater knit by Nathania.
January 16th
Another handknit hat #22 on the way to Margarita Friday…cozy for winter!
January 17th
Another handknit cap from Nathania as hat #23. Today Glen picked the Shoreline trail. Let's see what has changed since I last walked around here lunchtimes at work in 2002. 😉
January 18th
My fellow backup singers at Black Sunday Roadshow rehearsal! Hat #24 is a dusty teal & black herringbone 100% Donegal tweed cap bought on the VAE Ireland choir tour in 2010. Technically a flatcap but I like it better unsnapped. 😉
January 23rd
Wine & cheese tasting with Cyd, Mike & Mary! Hat #25 today is a navy beret in honor of French cheeses with our local wines.
January 24th
Too sunny today for a winter hat for an afternoon party, but big floppy black straw hat #26 will do! So nice to feel the sunshine while driving!
January 31st
Hat #27 is a teal fedora to cover post-hike hair at the movies.
February 6th
Red dress for women's heart health with red fedora as hat #28!
February 13th
Hat #29: It's been 10 years since my mom Diane handknit & felted me me this teal derby and matching scarf, but I still haven't found a shirt that matches perfectly. Maybe someday!
February 15th
Brown wool beret as hat #30 in honor of a fun afternoon of art & wine
February 17th
Yesterday's post-hike hat #31 was the first teal fedora I bought, dyed and painted to match my teal trenchcoat…but the lighting at dinner made it look paler in photos than in reality. Amazing the difference that lighting makes.
February 20th
Watching Marc play with Duran Duran Duran tonight instead of margaritas! I thought a brown plaid trilby was 80s enough for tonight's hat #32.
February 27th
Hat #33 is vintage from my 100-year-old grandma, with label from the Bon Marché in Seattle. Since this is a recent acquisition, this is the first time I've worn it!
February 28th
Emergency alert thunderstorms and hail today call for hat #34, my last brown hat in my inventory!
March 6th
Hat #35 is a greeny-teal floppy felt from Ruth that I thought looked vintage enough for pearls….and worn again for my birthday dinner in July when my new retro polka dot dress matched it perfectly.

March 7th
My last vintage 1960s hat in honor of our Halloween Scream Team evening seeing Psycho at Stanford Theatre. Loved hearing the Alfred Hitchcock Presents theme music on the organ!
March 9th
Plowing through the last cozy winter hats for inventory since I think spring has already sprung! Here are a standard black purchased knit cap as hat #37 and a turquoise hat #38 with a cool twist design on top handknit by my mom Diane.
March 13th
All black today for Friday the 13th including hat #39, a black wool felt wide-brim hat with black velvet band and black satin bow, but I couldn't resist adding a splash of teal. 😉
March 27th
Tracia is helping with hat inventory tonight, wearing hat #40, a dark brown wicker cowboy hat with plastic bling, and I'm wearing my leather Australian outback hat #41, a souvenir from my 2010 trip. Let the girls weekend begin!
March 28th
Today's hat inventory was a quasi-trilby of woven teal, tan & purple raffia paper as hat #42.
March 29th
Hat #43: Jack Skellington painters cap from DisneyWorld, with Disneyland Jack bracelet and spookified Disney castle tee.
April 3rd
Hat #44 purchased in Hawaii 2014. Large floppy aqua straw sun hat with adjustable drawstring hatband. It even stayed on while driving on surface streets with the convertible top down!
April 10th
Hat #45 is so large I had to turn the camera to landscape to fit it all in! Burgundy purple felt wide brim with black lace, black feathers, rhinestone brooch and black netting.
April 19th
Really? This no-makeup, red, exhausted post-hiking face gets carded for alcohol at Trader Joes? Haha…maybe it's this hat #46? I'll accept the compliment either way. Maybe since I bought this hat in Australia, it absorbed the common Australian opinion that I was 10 years younger than I am? 😉
April 24th
Hat #47 is a black leather biker cap Grandma gave me around 15-20 years ago.
May 8th
Hat #48 is a vintage gray & aqua flatcap from Grandpa Pete. This hat and his fedora started my hat collection in 1984 when I was in 7th grade. I like it better unsnapped on my head than how it's supposed to be worn.
May 15th
Tonight's dinner outfit includes hat #49, a black wool beret, with a musical scarf to look more French. 😉
May 22nd
Girls night tonight with hat #50, a teal plaid cap that comfortably stays on during top-down freeway driving!
May 29th
Enjoying Mexican Mules at Roberto's Cantina while wearing hat #51, purchased at Macy's Number One in New York City 20 years ago when we were there singing the Verdi Requiem in Carnegie Hall.
June 5th
I wore my Altos Rule bracelet to Margarita Friday in honor of Ruth and Sheila performing in their choir concert! This is hat #52, dark green with back black velvet bow, with a bonus photo proving I've had it since 1994. 😉
June 11th
Robin is helping me with hat inventory as we perform with Black Sunday Roadshow at Clos la Chance winery, so we have her wearing hat #53, a good quality costume felt bowler, and I'm wearing hat #54, a 100-year-old antique Stetson derby I bought in Salem in 2012.
June 12th
Three generations of hat inventory! 3 of my several straw hats are 55, 56 & 57. Since Mom and Grandma both say it's too hot today to wear hats to dinner, I wore a different straw bowler with black grosgrain bow to dinner as hat #58 too!
June 19th
Hat #59 is a tam o'shanter style wool beret that is older than me. It used to have a patching pompom on top that was lost years ago. I thought I inherited this from my mom Diane since it was in the family winter hats & gloves box growing up…but lo & behold my DAD wore this in high school for some reason lost to history! haha…
June 27th
Hat #60 is a teal straw with matching sculpted straw flower with leaves, and the first true teal hat I ever found, paired with a sundress since it's too darn hot today…
July 3rd
Shh…don't tell the regulars that we went somewhere else tonight! Gail had never been to Dish Dash so we all enjoyed very tasty Middle Eastern food. I wore hat #61, a white cotton bucket hat dressed up with ribbon for Independence Eve.
July 8th
Hat #62 is a new teal fascinator souvenir from Edmonton!
July 23rd
Hat #63 is a costume-quality white cowboy hat with the metal Calgary Stampede logo given to us by the tour company that survived the trip home from the Canadian Rockies inside my suitcase.
August 1st
Hat #64 is my favorite spring & summer errands hat, a variegated aqua & teal tightly-woven straw trilby, nicely lightweight and well-ventilated. Perfect with my turquoise Haunted Mansion shirt for a solo Halloween Home Depot trip today!
August 2nd
Hat #65 is a rare purple hat in my collection, a toasty wool cap with a little bling, hard to match to any of my purple shirts, but it goes well with my sparkly Jack Skellington tee, and extra bonus that it's another rare hat that stays on while freeway driving with the top down! It's a bit warm for summer, but good for a cloudy morning on the way to a yummy breakfast at Hobee's!
August 7th
Today I'm wearing hat #66, cobbled together inside Disneyland when I wanted a princess cowgirl hat of my own that wasn't pink! I bought the plain hat, bought a small metal tiara at the junior princess shop, then bent the tiara's metal combs until they fell off, bent the tiara to fit, and stuck it into the braided hatband. 😉
August 14th
Tonight I wore hat #67, a royal blue velvet button cap I bought at an antique store in 2000, paired with an old family turquoise, royal blue & pink silk scarf. The original satin edge matches the royal blue of the hat and had a matching satin bow. I tacked the iridescent fabric over the satin edge when I wore the hat as Mrs. Peacock for my first Clue party in 2008, but sadly now the bow has since disappeared. If you look closely, you can spot the bow in the Clue outfit.
August 21st
Hat #68 is an extremely British Laura Ashley felt cloche bought across the street from Windsor Castle on my first trip to England in February 1996. It was the only hat I could find in my price range that trip, but I don't think the cloche style is good for my head shape so I never wear it. Glad it wasn't too warm tonight to wear it!
August 30th
I couldn't resist buying a fun floppy straw hat in Rio, even though it was made in China. I wore it to both Ipanema Beach and Copacabana Beach!
September 4th
Today I wore hat #70, a crushable woven raffia hat purchased to take on the Choral Project's concert tour of Mexico and Costa Rica in the summer of 2001. I wore it while bravely tasting a fried grasshopper in Oaxaca. 😉
September 6th
I wore black straw hat #71 today with skull jewelry in honor of our trip to the San Francisco Dungeon! It was a lot of fun, and I thoroughly enjoyed Dungeness crab for both appetizer and entree!
September 11th
Hat #72 took a bit of detective work. It was given to me fairly squashed like it was shoved in a closet, with some mold spots that I was able to clean off the felt but not the ribbon. I have been trying to ease it back into a better shape for almost a year, so tonight I decided it was time to wear it. The markings inside say "La Nutria Industria Uruguaya," so from a little Internet research, it looks like it is a gaucho-style souvenir hat from one my grandparents' several trips to South America in the late 1960s or 1970s. From the pristine inner hatband I doubt it has ever been worn. How funny that I already had a hat from a country bordering Brazil but didn't know it until I got back from my trip to Rio? 😉
September 25th
Hat #73 must be one of my grandpa's many white hats, but from the inside label, this is not the Stetson he wore. This is an ivory felt wide brim hat with dimpled crown, but not quite cowboy style. Still fine attire for another fun dinner with friends!
September 26th
Annual Halloween Shopping Weekend has begun! My mom made me this adorable pumpkin hat so I modeled it as hat #74, but it's sadly always too warm to actually wear it during Halloween season!
October 2nd
My aunt Brenda challenged me to try the cute cat makeup going around the internet, so I tried tonight to wear it with hat #75, my black fedora decorated with a scarf, mini skulls & skeleton hand. Happy October!
October 9th
We are at the time of year when I have no time to wear hats, so I will show you my Jack Skellington pinstriped mini-top hat fascinator as hat #76, worn to an October Margarita Friday in 2013, with some teal sparkle added for New Year's Eve 2013, and the day I purchased it at Disneyland in November 2012.

October 12th
It's the time of year I should catch up by posting the costume hats I have made, starting with hat #77 from Mardi Gras 2003, the giant floppy hat with plumes and bows that matched the handmade lilac stick mask and historical-French Court-inspired Mardi Gras outfit that was christened Brittatoinette. (Bonus trivia: this is the dress for the Phantom of the Pipes, the spirit of Queen Ergelise from Halloween 2012 & Halloween 2014, but with a stacked curly white wig instead of the hat.)
October 13th
Today's hat is #78, a giant pirate hat I made from stiff buckram and black pleather, reusing the same giant ostrich plumes as Brittatoinette's hat #77. This pirate hat debuted at Mardi Gras 2006, went on the Global Peering Forum Caribbean cruise conference the following month, requiring me to carry the hat on the plane and through customs, giving the security crew quite a laugh. Sadly only one plume is left because the others blew away in the wind one Halloween when it was out on display, but the hat was most recently seen as Swashbuckler Sally, the spirit of Princess Sarina of Castle Brittahytta for Halloween 2014. Bonus hat #79 is a cheap Halloween clearance pirate hat with fluffy feather trim and attached bandana headed for a Pirates of the Caribbean movie. 😉
October 14th
Hat #80 is one of the four minstrel flatcaps I made for our Cibo Cantabimus renfaire outfits when we sang together in garb in 2002. Each has a small white ostrich plume, a buckram-stiffened brim, and the fabric is a dusty olive brown microsuede for texture. Even adding some peacock feathers, it's not quite fancy enough to go with Kat's hand-me-down teal merchant quality dress, but it was welcome shade when I finally could attend NorCal Faire again in 2011!
October 15th
Hat #81 is the Disneyland Mickey ears top hat I covered in scrap brown upholstery velvet for my steampunk character Miss Hermione G. Wells, debuted at Halloween 2010, and worn again with the Photo Chapeau contraption last November with the Steamcake Cinema.
October 19th
Hat #82 is the handmade witchlike mini top hat for the Victorian Webmistress, debuted at Halloween 2011, and reprised as the last European heir of Castle Brittahytta for Halloween 2012 & Halloween 2014. This hat was trickier to make than the giant ones, since I needed a curved wire structure so the flocked web pattern fabric would stretch, but I couldn't get the wire frame to hold together properly so it's not as smooth as planned. Guess I need to learn welding next! 😉
October 20th
The handmade hats continue! Hat #83 is a sparkle satin and brocade stuffed jester hat I made to match my handmade corset, bloomers, pointy shoes and choker for my Festive Fancy Jolly Jester outfit for Mardi Gras 2012. Yes, I was there with bells on! 😉
October 22nd
Hat #84 was the candle cup and wax catcher of my Candlestick costume for my Return of Clue party. I used matteboard and a giant paper lantern to curve the large brim like I wanted, and I really liked the result. This is the largest hat I had made until Halloween 2015… 😉
October 27th
My costume for Halloween 2015 includes hat #85, a large scrap corrugated cardboard papier-mâchéd to a plastic hula hoop brim over a woven straw cowboy hat, the largest hat I've ever made at 34″ wide, unable to fit through bedroom doorways and barely able to fit through my hallway and exterior doors! It's still not as large as the animated La Muerte's hat, but I do have 2 handmade palm fronds, 4 pink ostrich plumes, and about 200 flowers, 50 skulls, and 50 flickering candles on my hat AND my dress!
October 30th
Hooray for festive Halloween spirit at Margarita Friday! I'm wearing hat #86, maybe from Spain with red crepe paper flowers, probably another souvenir from Helen & Palmer's world travels, perfect with my fun spiderweb Dia de los Muertos outfit!
November 13th
Another fun Margarita Friday with friends, plus hat #87, a cozy royal blue fleece with coordinating scarf. They asked where my teal was today, and I told them it was hidden underneath. 😮 Haha!
November 19th
I need to catch up quickly if I'm going to document all my hat inventory before the end of the year! As Throwback Thursday, here is my giant Haunted Mansion Jack Skellington top hat as hat #88, purchased at Haunted Mansion Holiday Disneyland 2003, worn again with matching Disneyland Jack scarf for a work event in 2013, then by my mom as her "Britta in 2038" costume for my Twenty Halloweens party in 2013.

November 20th
In 2013 I found new teal brocade AND aqua swirly faux fur so I just had to make a reversible hat with matching scarf, then I still had enough fur left to make a halo/collar decorated with a vintage brooch from Grandma. I don't think it's fluffy enough to be a collar, and the halo needs a higher forehead than mine, but I count this as hats #89 & 90!

November 22nd
Today's hat inventory is #91, one of Grandpa Pete's many fedoras worn as part of my sleuthing outfit for the San Jose Escape puzzle room! There are a couple bonus hat photos including toddler me wearing another of Grandpa Pete's hats, and one more how I wore it many times in college, often with teal. 😉
November 23rd
Hat #92 is a winter teal cap that looks like a puffed flatcap but is actually sturdy felt that stands on its own…and it is just barely too dusty for almost all my winter teal shirts so is tricky to find a matching outfit! Today is with an old printed tee that barely has any teal, and in 2010 I wore it to a Margarita Friday with my teal leather jacket. Gotta wear the last few teal hats quickly since Dec 1st – 25th I wear red for Christmas!
November 25th
Hooray for three generations of hat inventory! Mom is wearing my trusty poofy black cap hat #93 that can even fit over a head of curlers, Grandma is wearing a cozy fleece bucket hat #94, and I'm wearing my handmade reversible teal leopard fleece hat #95 with matching scarf and gloves. Also pictured is the reversed hat with the other set of matching gloves. Still quite a few hats to go!
November 27th
Today it's my green & navy plaid cap as hat #96 with my sparkly tree shirt & earrings for cutting my Christmas tree at Apple Hill. Extra fun this year with real snow on the ground!
November 29th
Hat #97 is a handknit teal cap by my mom Diane with plastic support knitted inside the brim, perfect for post-hiking, like dinner in 2010, or errands tonight. I think this might be the last teal hat in my inventory, but not the last hat quite yet…
December 2nd
Hat #98 is the first hat I made from the hat pattern book my mom gave me years ago. I used buckram and leftover fabric from when I reupholstered my couches by myself, so it is very stiff, and sadly impractical to wear in public and hard to build an outfit for it. I did wear it to the 2006 Affair of the Art and used it as the Mad Tea Party centerpiece for Cinema Brittahytta Alice in Wonderland a couple years ago.
December 3rd
Hat #99 is the fanciest non-costume hat I own, and I had planned to wear it for my birthday dinner this year, but the retro teal polkadot pinup dress found me instead. 😉 I bought this giant aqua hat in Hawaii last summer for cheap & had to wear it home on the plane on top of the aqua straw hat I also bought there (worn this spring as hat #44)!
December 4th
Today I wore milestone hat #100 and brought its brothers & sisters as hats 101-110 for Margarita Friday annual holiday caroling! Fun to see lots of smiling faces at both restaurants, with even some guffaws at our silly lyrics!
December 5th
I wore my tan flatcap today as hat #111 to meet Craig, Jerry & Troy to see Krampus, the holiday monster movie, and lo & behold Troy was wearing the same hat!!! Bonus trivia: this was the hat I wore my one performance as Eponine in our student Broadway mini-review in 1991.
December 8th
Hats 112-122 are costume-quality cheap but decent-looking, nothing more than $5, since you never know what hats I might need for decorations or projects! The original steampunk Photo Chapeau worked so well for Halloween 2014 that I made Glen a new Dia de los Muertos style hatcam top hat for Halloween 2015 this year, with skeleton hands, several sizes of skulls and a big red rose. This will be a new Halloween party tradition!
December 10th
Throwback Thursday gives us my handmade leather Sorting Hat as hat #123! I was only Sorted at three of my Hogwarts parties as Fleur Delacour, Britta Skeeter and the dragon, since Bellatrix for Year 6 was *obviously* a Slytherin. 😉
December 11th
Hat #124 is a new fun red plaid trilby I couldn't resist buying this year!
December 14th
My mom Diane handed me another bag of vintage hats a couple years ago, and I forgot I had put them in the bottom of the big hat box! Not sure who owned these originally, but here are hats 125-129, all 1960s era or earlier, and hopefully you can see the 360 views for details with my mirror shots. 😉
hat #125 = ivory flowered cloche Diane wore in her 8th grade home-economics fashion show with the suit she sewed in class
hat #126 ivory damask fabric hat with a side bow and floppy gathered brim
hat #127 small ivory damask cap with cream velvet ribbon and tiny bow at the back
hat #128 open flower circlet with barely any netting left. Also I think the navy netting from hat #129 got caught in this tan netting! Diane now thinks this was the one Althea wore at Diane & Gary's wedding, but we thought the other flower headband one earlier was that.
hat #129 navy & white swoosh with just a tiny bit of netting left. Maybe 1940s?
December 15th
Hat #130 is my red checkered cap, shown here with my new cuddle buddy. I have always thought that Huskies are the most beautiful dogs, but getting one for California wouldn't be comfortable for the dog. When I saw this big squishy super-soft pup at IKEA last week, I decided to finally get my own Huskie. 😉
December 16th
More Disneyland hats today! I have two sets of Mickey ears with my name embroidered on the back. Hat 131 is the special Jack Skellington version and hat 132 is the classic style. Way back in 1999 or so I found the foam Maleficent horns, and I couldn't resist the posable tail Santa Jack with attached beard one Haunted Mansion Holiday trip.
Hat 133 is foam Maleficent horns with attached veil and center jewel. Is this a mean enough Maleficent face? 😉
Ho ho ho it's hat 134! I couldn't resist the poseable tail Santa Jack with attached beard one Haunted Mansion Holiday trip.
Holiday Hat 135! I think it was 2004 when I splurged on the silly stuffed light-up Christmas tree, which I wore as the Equinix elf for company party face painting back in the day, and it is still in my holiday caroling hat collection, worn by brave souls like Gail at Margarita Friday in 2011. 😉
December 17th
Before Cibo Cantabimus had our name, we went to the NorCal Faire in outfits we could quickly cobble together on college student incomes…including a simple black cap I made for myself that I still have as hat #136.
In the early 2000s, we sang patriotic rep for Memorial Day and 4th of July, so I dressed up these foam "straw" boaters with a special patriotic Cibo Cantabimus logo and striped ribbon bows. These are hats #137-142, still safely stacked in my costume closet in case we need them again. 😉
December 18th
Red sequins and feathered hat #143 for the last Margarita Friday of December!
December 19th
My pointy elf hat is hat #144, way back when I wore it as one of the Equinix elves at the company party, and today for the 22nd annual San Jose Saxophone Christmas!
December 20th
Hat #145 is the pride & joy of my hat collection…my antique top hat complete with quilted-satin-lined locking leather case! In 1997 when I temporarily moved to the UK, my first weekend there we visited Oxford, the nearest city to us, and strolled into an antique store. There was the top hat, and I asked the elderly proprietress if I could try it on. She gave me a look how inappropriate she thought a woman wearing a man's hat was, but begrudgingly let me try it. It fit me absolutely perfectly, then she nodded in surprise saying, "It suits you." I was amazed it came with the gorgeous case that still locks with the cutest little key, so I spent my entire customs allowance on my first souvenir, and it's still the most expensive hat I own. 😉 Today is the 19th year in a row I've worn it Christmas caroling, and I've even worn it for a few costumes along the way.
December 21st
Hat #146 is a musical knit cap in honor of awesome John Williams music for Star Wars! I didn't wear the hat in the theatre so I wouldn't block anyone's view. I haven't seen an original Star Wars movie in a theatre since The Empire Strikes Back!
Dec 22nd
Three hats today! In 1990 on my very small college student budget, I decided to split a big hand-me-down skirt into a cape and cut a cheap plastic face mask to be musical style Phantom of the Opera for Halloween, but I wanted his hat too, so I used scrap corrugated cardboard to extend the brim of a cheap foam boater hat and covered with felt, gluing to the foam and handstitching to make hat #147. The following year my friend borrowed my Phantom outfit to wear himself, but he found a nicer hat and gave it to me as hat #148. I don't remember where the black suede Australian-style cowboy hat #149 came from, but it stacks inside the others, so all three live together in the big costume hat box above my closet.

Dec 23rd
More costume hats today! I now have two of these plastic Viking helmets, since I used hat #150 replacing the horns with homemade wings for Brittahilde the Valkyrie in 2001, and my mom donated a new one from her stash as hat #151. Hat #152 is a cheap purple costume hat obviously sold for the 1989 Jack Nicholson Joker, but I bought it originally for Darkwing Duck for Halloween 1992, wore it again as Belinda Screete for The Last Train from Paris mystery party in 1998, and it's still safely in the big costume hat box above my closet stacked inside others of similar shape. Never know when you might need a purple hat!
Dec 24th
Merry Christmas Eve! It's also Throwback Thursday, so here I am in my Ms Santa faux-fur-trimmed red corduroy outfit with matching hat #153. I bought this outfit in 2006 for my Equinix elf company face painting duties and wore it several years, ending with the last company face-painting in 2010. Ho ho ho!

Dec 28th
Hat #154 is a tweedy knit flatcap perfect for post-hike shopping in winter.
Dec 29th
Hats #155-160 are the six sombreros left after Halloween 2015, since the blue-edged straw one worn by my La Catrina at the porch got so deformed in the rain that I had to throw it away. The three papier-mâché sombreros I made for the skeleton mariachis brings us up to 163, since I did save them in storage with the jackets & guitar, just in case.
Dec 30th
We are getting close to the end of my hat inventory! I made the teardrop Guinan hat #164 for the first Trek Mystery party in 2002, and was glad I kept it for the Trek Mystery reprise in 2011 that Lyle hosted for Galt's birthday, but I never actually wore it myself. Lyle​ had the perfect robe to go with the matching hat & scarf! When Juanita arrived at the party, she had to model the Guinan hat & scarf too!
Hat #165 is my mortarboard for my highschool graduation when I sang "One Moment in Time" for the ceremony, and I still have it even though it has faded from navy blue to purple. It used to match the tassel!
Dec 31st
Hats #166-170 are five silly plastic top hats for a fun New Year's Eve with friends, including glitter teal & glitter purple! Since I'm not counting headbands, antennae, crowns, or tiaras as hats, the official grand total is 170 for my hat inventory! Farewell to 2015 and Happy New Year!
Jan 6th
I bought 3 new hat boxes to supplement the vintage ones and reorganized everything in my hat inventory based on what I would wear again most frequently and what needs the most protection. Now all my hats are either on display, inside one large wicker bin, inside hat boxes above the office closet, a couple large costume hats on the shelf inside the costume closet in the office, and the most often worn hats stacked on the shelf in the hall closet. Of course I had a little difficulty when the boxes were empty, since ROUND boxes are obviously the best cat traps of all! 😉 Sadly my total count is down to 168 now since I am missing 2 Santa hats from this year's caroling. Maybe they'll reappear by next season?
Personal hats, hat inventory, fashion, cap, fascinator, top hat, santa hat, beret, bowler, derby, knit, flatcap, trilby, fedora, straw hat, boater