Hello! Here are some more pictures of me...doing various things...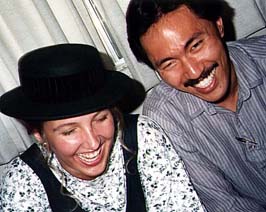 Jeff Ouye and me blowing out the candles on our joint birthday cake in 1994...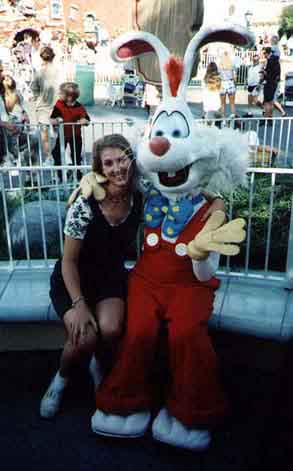 Roger Rabbit is one of my favorite Disney characters...I sketched this picture, if you'd like to take a look...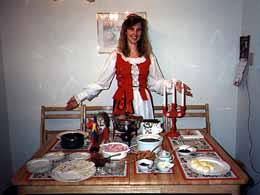 I did my own smorgasbord with homemade, traditional Scandinavian fare, and I hosted wearing my traditional holiday costume from Visby, Gotland, Sweden...This was christened "SmorgasBritta", but someone will have to remind me who actually takes the credit for the name...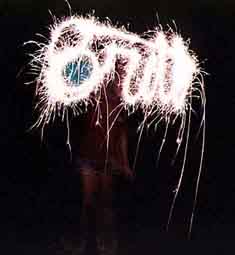 When I was about nine, my dad got his 35mm camera, so I had him set the shutter speed to the longest possible...There really is an "a" at the end, but it's curving around...really! Hopefully this won't be the only time I see my name in lights...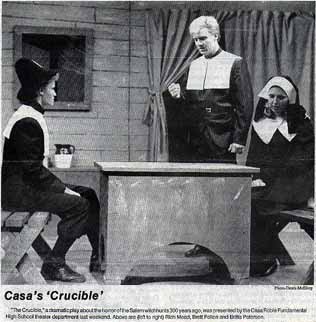 Here I am as Elizabeth Proctor in Arthur Miller's The Crucible in 1987...If you'd like to read the caption, click here...Does this count as my name in lights, perhaps?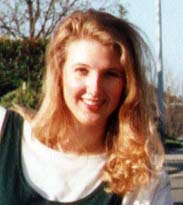 Can you believe that not many people noticed when I colored my hair?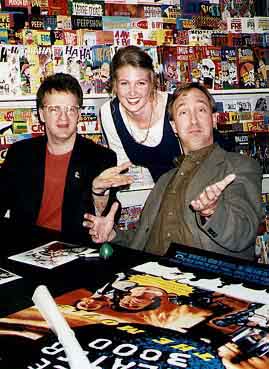 Jim Mallon(Gypsy), Trace Beaulieu(Dr. Forrester and voice of Crow) and me...I got autographs and free passes for MST3K The Movie!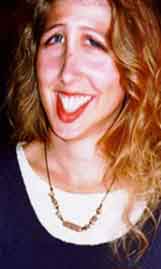 Noah Leaman was having fun with Goo...it's good for a cheap laugh, isn't it?
(Hey, this is actually my real hair color this time...I guess maybe that's why no one noticed before?...Hmmm...)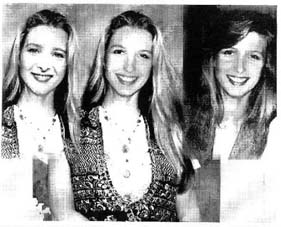 There's a bit of a story with this one: Lisa Kudrow (Phoebe Buffay from Friends) is on the left, I am on the right, and in the middle is my face on top of hers...See, some people had said that I looked like Phoebe, but Noah and I didn't really think so until he started playing with Photoshop...Jeff Johnson christened the result "Briebe"...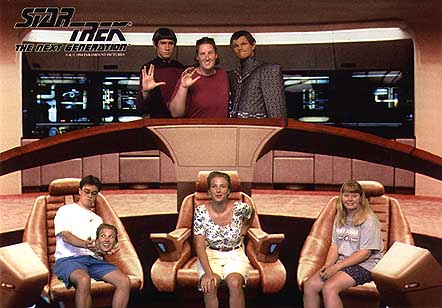 Another story here...Paramount's Great America amusement park would do a video capture & plop you into your favorite Paramount-owned show (Cheers, Star Trek, I think even Jeopardy, etc), so of course, we had to opt for the Trek one, and we even convinced some of the employees in costume to be in our picture...Since the image editing was shown on outside screens for passers-by, we caused quite a stir when Jeff Johnson thought of the floating head idea....! I'm still not quite sure what Amy Smith was trying to do up there at the top...maybe she just couldn't get her fingers to do the Vulcan salute...? If you'd like to see a close up of the floating head, click on the image...
---