In 1997 I was in England for Halloween, which isn't a holiday that is celebrated as much as it is in the USA, so I had to show them how it's done!
Of course, I didn't have any of my stockpile of decorations with me, so I had to make do with what I could find or make. I made a cauldron for witches' brew out of papier-mache to fit around a plastic container, and we did find some black candles, paper plates, cutlery and napkins at a party store in Oxford...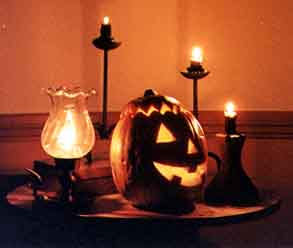 Let's start with the decorations. I carved the jack-o-lantern myself (I've been doing it for years now - don't worry!) , and I thought it looked quite effective with the black candles surrounding it. Of course, we had to use Marcus' good camera to get the exposure right...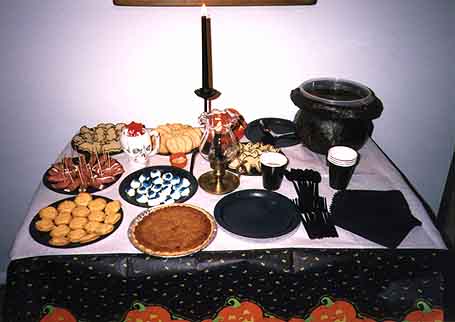 Now onto the food (for more details, see the Halloween recipe page). Here's how we set up the table, using more black candles and my papier-mache cauldron full of the witches' brew...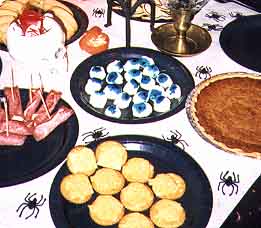 Of course I had forgotten to put out my edible spiders for the first picture, so here they are...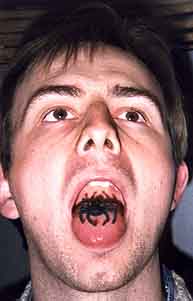 ...and if you don't believe they were edible, here's Marcus proving it to you! If you want a real close-up view, click on the image...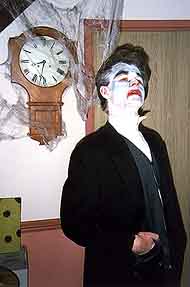 Onto the guests...Count Andy the Vampire was the first to arrive, which was no great surprise seeing he lives around the corner from Marcus...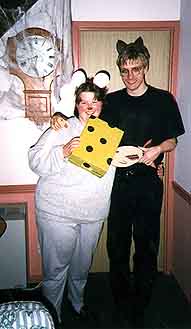 Next were Jonathan and Kellie as a cat and mouse. See the cheese for the mouse and the fish for the cat? The cat also has a bloody knife in honor of Halloween...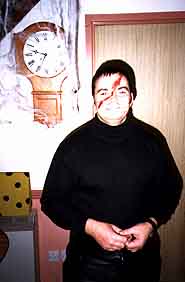 Road Rash Biker Steve was the next to show, later than the rest due to his latex scarring job, but a good effect. It looked even better with the leather jacket on, but here you can just make out that he's wearing leather pants...




...and last but not least, your host and hostess as Jack Skellington and Sally from the Nightmare Before Christmas...

---
Copyright ©1996-2011 Britta Blvd. All rights reserved. All text, photos, graphics, artwork and other original material on Britta Blvd
are copyrighted and may not be published, broadcast, rewritten or redistributed without prior written consent.